Stripped back Chekhov: Imaginative and Innovative
Or a radio play?
"After reading Tolstoy, you're not going to want to read Trigorin!"  
Konstantin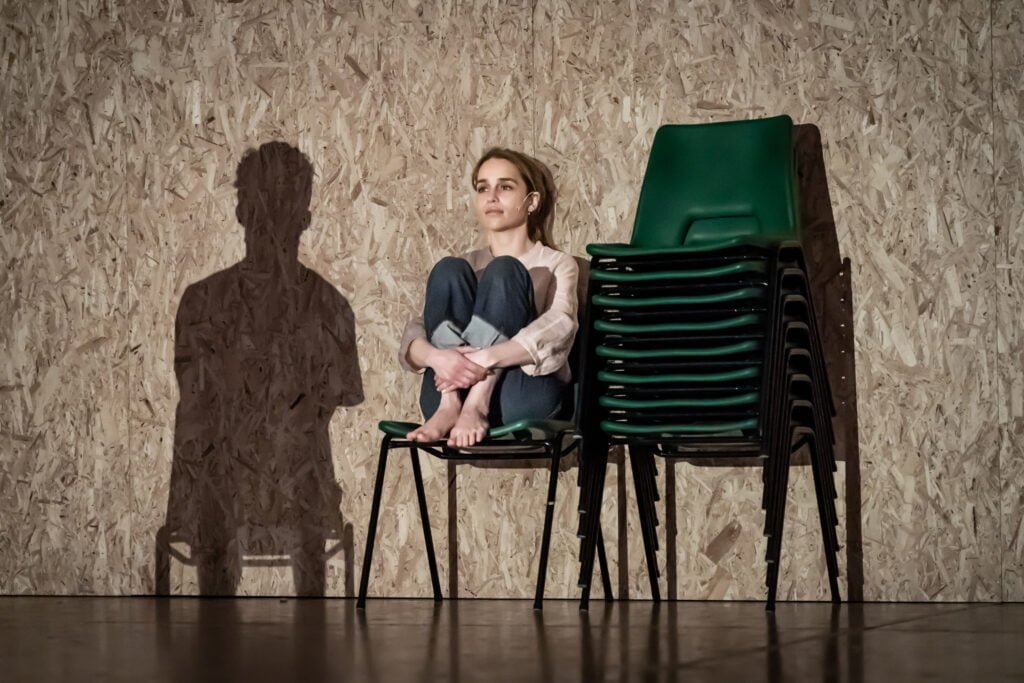 The four greatest Chekhovian plays, written in reverse order are The Cherry Orchard, Three Sisters, Uncle Vanya and The Seagull.   The Seagull was the first and for me the least attractive.  
I was blown away by the Jamie Lloyd Company's production of Cyrano de Bergerac and looked forward to its companion play The Seagull.  The Russian story is set on an island in an isolated country area where an aging and once beautiful actress is holding court.  Her son is an aspiring playwright, her boyfriend is a successful writer of middlebrow fiction and much younger than she is.  She is staying with her brother who is in ill health.  Living in the area is a much younger, 19 year old beautiful girl who wants to be an actress and who falls in love with the famous writer. 
Chekhov intended The Seagull  to be a comedy but two years after it was first produced the great Russian director Stanislavsky in 1898 had a huge hit with it as a tragedy.  It was Stanislavsky's emphasis on Chekhov's subtext that produced the tragic elements.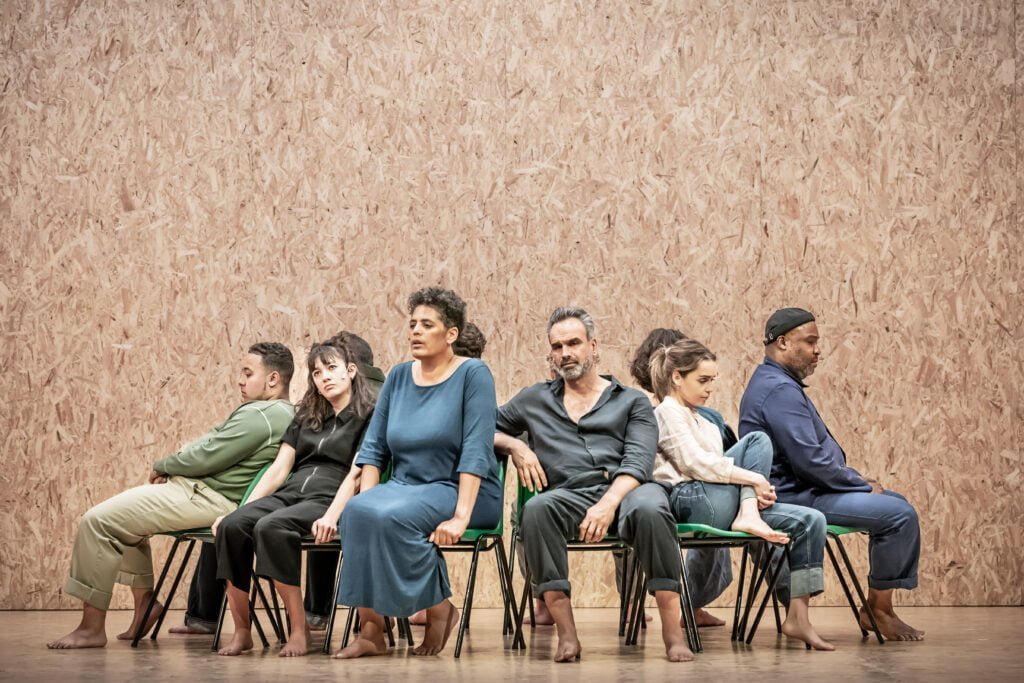 Anya Reiss wrote a new version of The Seagull for Southwark Playhouse in 2012 setting it in the modern day on an island "like the Isle of Wight".  It is Reiss's version which Jamie Lloyd directs here. 
It is a play about an eternal triangle, Madame Arkadina (Indira Varma), her lover Boris (with the same dishevelled blonde hair style as our prime minister) Trigorin (Tom Rhys Harries) and the much younger girl Nina (Emilia Clarke).  Don't go expecting beautiful Victorian frocks and stuffy décor.  Soutra Gilmour's set is plain chipboard walls and floor.  I couldn't see the ceiling.  The cast wear casual modern clothes. 
Like the Cyrano, the emphasis here is on the clarity of the words so the cast all wear mics and the sound quality is superb.  They are seated on those cheap plastic stacking school chairs as they speak from the row of ten of the cast.  From the Royal Circle, higher than the Dress Circle I couldn't always see who was speaking.  Initially as Emilia Clarke has quite a low register I couldn't tell whether it was Indira Varma or her talking but I could hear every word.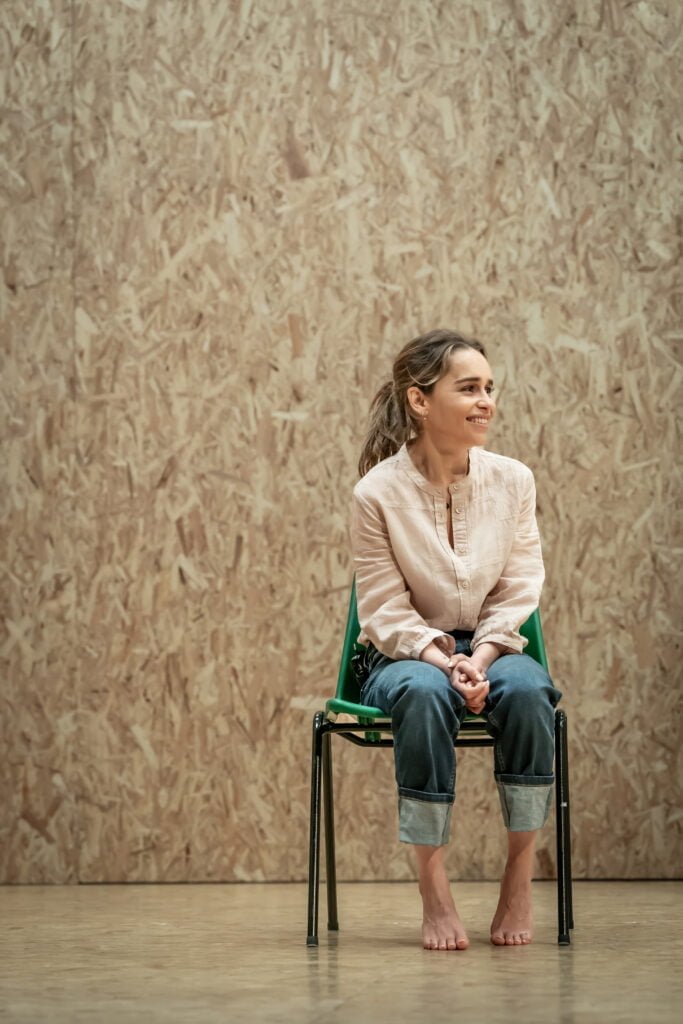 They look at each other as they speak but again much of that visual impact is lost in the Royal Circle and the Balcony.  This left me wondering how different this experience was from a radio play.
The audience, including me, loved Sophie Wu as Masha with her initial lying on the floor in that bored pose and her physical interpretation of despair and depression with her hunched shoulders hiding her neck.  She is superbly melancholic.  We laughed and groaned at the same time. 
Indira Varma's Madame Arkadina is quite spiteful and so vain.  She is horrid to her son Konstantin played by an actor with a disability, Daniel Monks, and doesn't go to any of the plays he has written.  She is manipulative and I don't remember Arkadina not having any charm.   Robert Glenister is sympathetic as Sorin her brother.  The estate manager Shamrayev (Jason Barnett) is boorish and uncooperative and his insistence that no vehicles are available traps Arkadina on the island with that sense of not being able to escape. Presumably they are too remote for an Uber!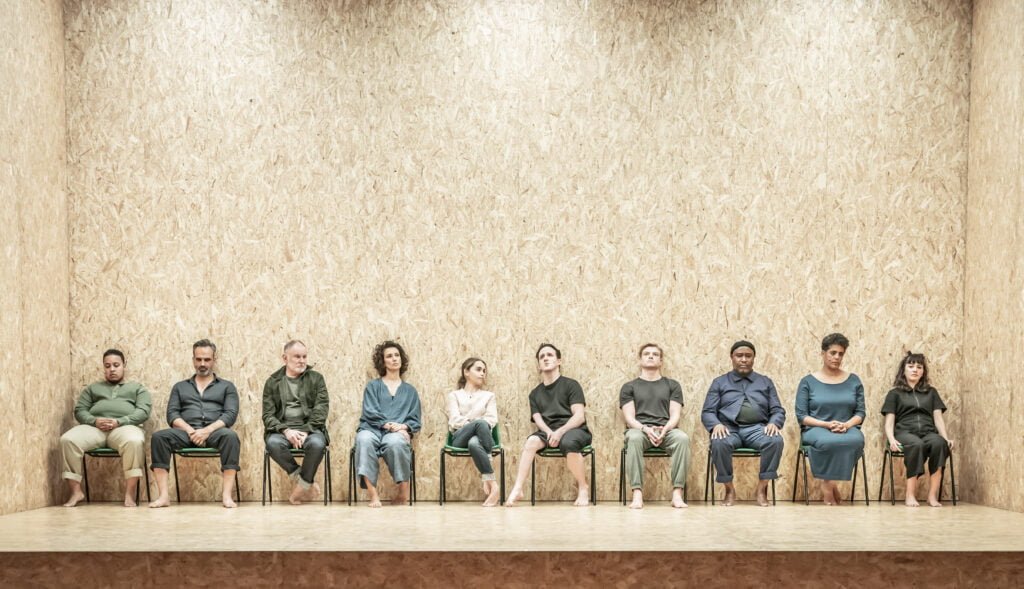 There is a mountain of introspection from Trigorin (Tom Rhys Harries) as he talks about how writers steal moments for their writing but he seems a weak character.  We lose all those arrivals and departures with old leather suitcases in this production.  
But what of Nina, the metaphor for the seagull killed by Konstantin.  Her future life is a disaster with a pregnancy, a baby that dies and a lover who despite his fame, leaves her to cope alone.  Emilia Clarke has little stage experience and it is difficult to assess her acting ability in this production but she sounds good. 
I need to say that I wasn't given a press ticket to see The Seagull  and so was in a seat with poorer sightlines than normal.  See photo below.  I am in two minds about this production but if I were given a better seat I'd definitely go again.  People next to me had paid £57.90.  I hope they felt it was worth it!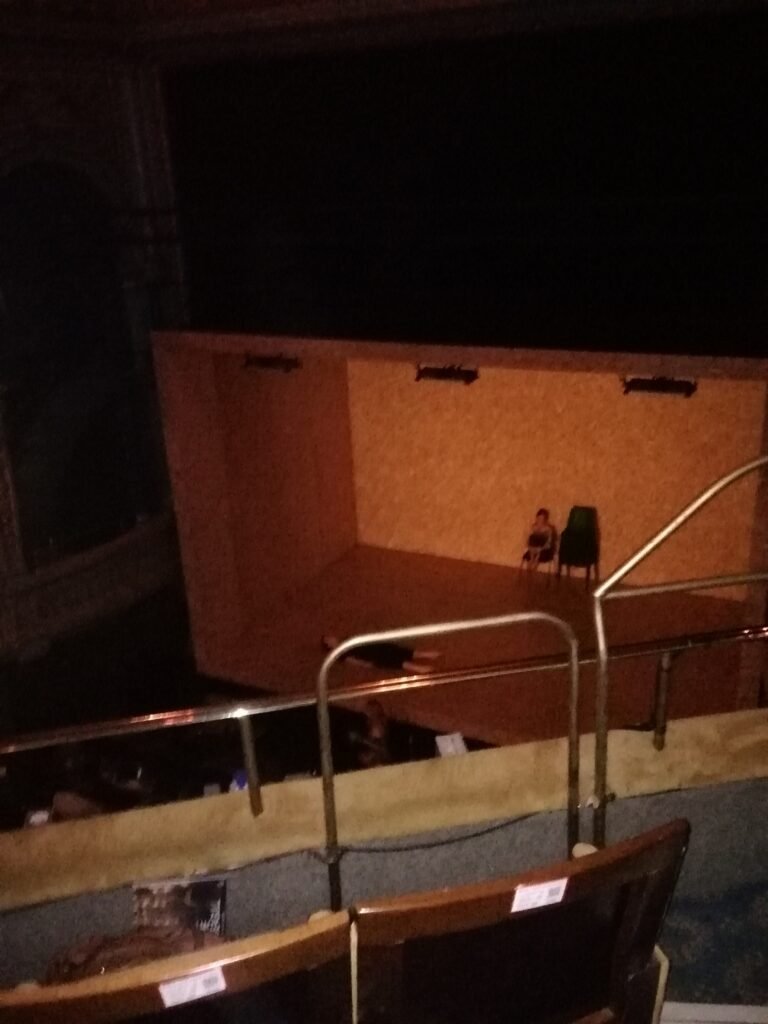 The Seagull
Adapted by Anya Reiss
Written by Anton Chekhov
Directed by Jamie Lloyd
Cast
Starring:
Gerald Kyd
Indira Varma
Jason Barnett
Robert Glenister
Sara Powell
Sophie Wu
Tom Rhys Harries
Daniel Monks
Mika Onyx Johnson
Emilia Clarke
Creatives
Director: Jamie Lloyd
Designer: Soutra Gilmour
Lighting Designer:  Jackie Shemesh
Composition and Sound Designer: George Dennis
Information
Running Time:
Two hours 30 minutes with an interval
Booking until 10th September 2022
Theatre: 
Harold Pinter
Panton Street
London SW1Y 4SW
Tube : Piccadilly Circus
Telephone: 03330 096 690
Website: haroldpintertheatre.co.uk
Reviewed by Lizzie Loveridge
at the Harold Pinter Theatre
on 7th May 2022