1930s Harlem Renaissance -
Creativity, Activism and Bathtub Gin
"To fling my arms wide
In some place of the sun,
To whirl and to dance
Till the white day is done
Then rest at cool evening
Beneath a tall tree
While night comes on gently,
Dark like me –
That is my dream!"
Langston Hughes in his poem Dream Variations
Opening in the National Theatre's Lyttelton Theatre comes a powerful revival of Blues for an Alabama Sky written in 1995 by Pearl Cleage.  At the end of the first act, the cast sing "Dreams" which is really what the play is about, people's dreams for their future.
It is the Summer of 1930 we are in Harlem at the North End of Manhattan Island. The excellent stage set designed by Frankie Bradshaw is a typical apartment block. Prohibition has been in place for 10 years. The area has become known for the "Harlem Renaissance" where people of any colour can come and drink and party, where black writers, artists and musicians could flourish. The Wall Street crash was the year before in 1929 and has affected those eking out a living here and diminishing the Renaissance as more people struggle economically.  As the play starts, we meet a very drunk Angel (Samira Wiley on her UK stage debut), a just fired night club singer, being helped by Guy (Giles Terera) an openly homosexual costume designer.  A stranger Leland Cunnningham, later to be known as Alabama (Osy Ikhile) helps Guy carry her back to his apartment.  We learn that Angel has had a series of men friends and her latest, an Italian has dumped her and married someone else.  "He's no Gangster he's a Businessman"  she says but he's past tense.
In the apartment opposite lives Delia (Ronkę Adékoluęjo) a strong and conventional Christian Liberian with a burning desire to open up a family planning clinic for the neighbourhood. She is friendly with Sam (Sule Rimi), often just referred to as Doc, who works in a local hospital maternity ward. He tells us that he has delivered seven babies that day.
All of the people have their own dreams: Angel to be a big nightclub singer; Guy to go to Paris to design costumes for a big star he knows, probably Josephine Baker who was a big hit in France and an inspiration to Jean Paul Gautier; Delia to start her clinic and probably marry Doc. We initially know little about Alabama but he says he is a widowed carpenter and that his wife died in childbirth and the baby died too. It is clear he has very different views and morals to the locals in Harlem. He comes calling on Angel and soon professes his love for her; she however won't give up her own dreams.  We get an inkling of his control tendencies when he chooses a dress for her which makes the otherwise flamboyant Angel look uncomfortably like a minister's wife. As the play unfolds it is clear that the central message is that of Family Planning, badly needed but offensive to many.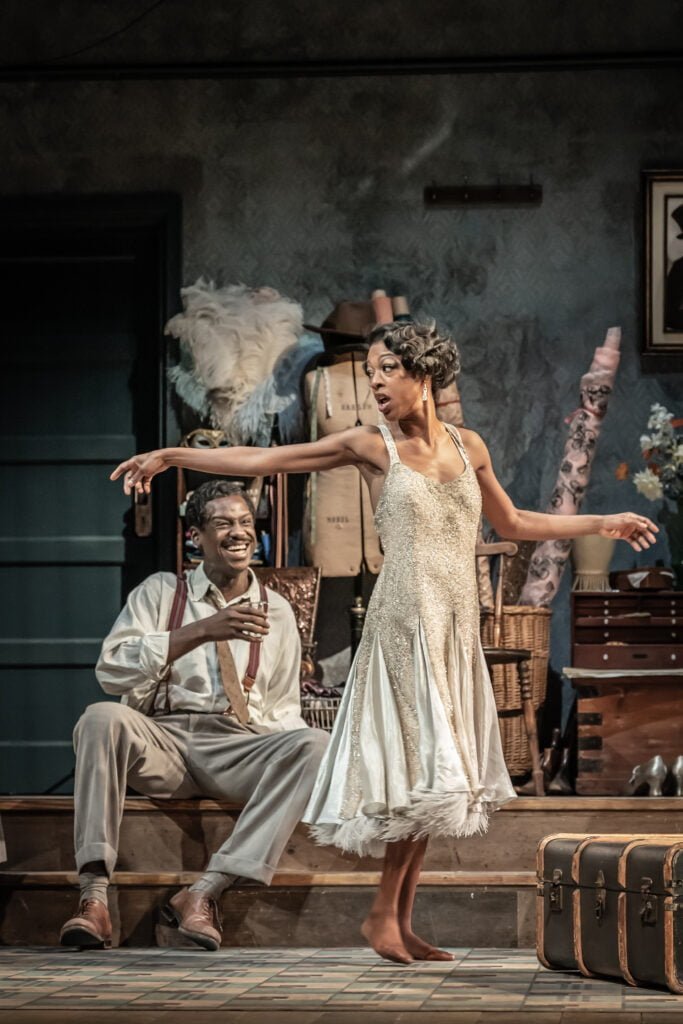 Oliver Fenwick's lighting heightens the nostalgia and the jazz from composer Benjamin Kwasi Burrell gives us a beautiful evocation of the 1930s in Samira Wiley's exquisite voice. On reading this you might be expecting this play to be a sombre indictment of the times and disappointments, in fact it is not. 
Pearl Cleage who has a long well-respected theatrical career with many awards, writes strong characterisations and from the start the audience, including myself, found much to laugh at during the play.  The laughter stops for the dramatic and shocking ending. It is said that Pearl based her characters on well-known people from the "Renaissance" and they are believable albeit simplified for the play. All of the players give good strong performances under the stylish direction of Lynette Linton who directed Lynn Nottage's award winning Sweat. The sign of a good play is how the audience react: they laughed, gasped and thoroughly enjoyed.  I can heartily recommend Blues For An Alabama Sky.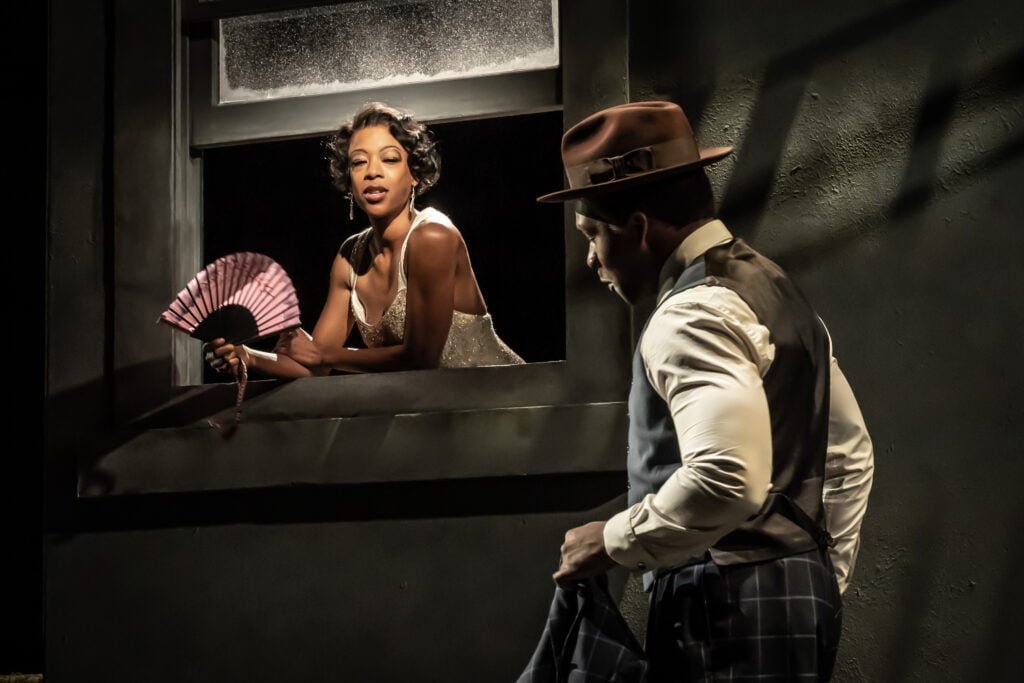 Blues for an Alabama Sky

Written by Pearl Cleage
Directed by Lynette Linton
Cast
Starring:
Giles Terera
Osy Ikhile
Sulé Rimi
Ronkẹ Adékoluẹjo
Samira Wiley
With:
Eddie Elliott
Helena Pipe
Kimberley Okoye
Lincoln Conway
Creatives
Director: Lynette Linton
Designer: Frankie Bradshaw
Composer: Benjamin Kwasi Burrell
Lighting Designer: Oliver Fenwick
Sound Designer: George Dennis
Movement: Kane Husbands
Information
Running Time: Two hours 45 minutes with an interval
Booking to 5th November 2022
Theatre: 
Lyttelton Theatre
Reviewed by Malcolm Beckett
at the Lyttelton
on 4th October 2022