" The Moor is of a free and open nature that thinks men honest that seem to be so and will as tenderly be led by the nose as asses are."
Iago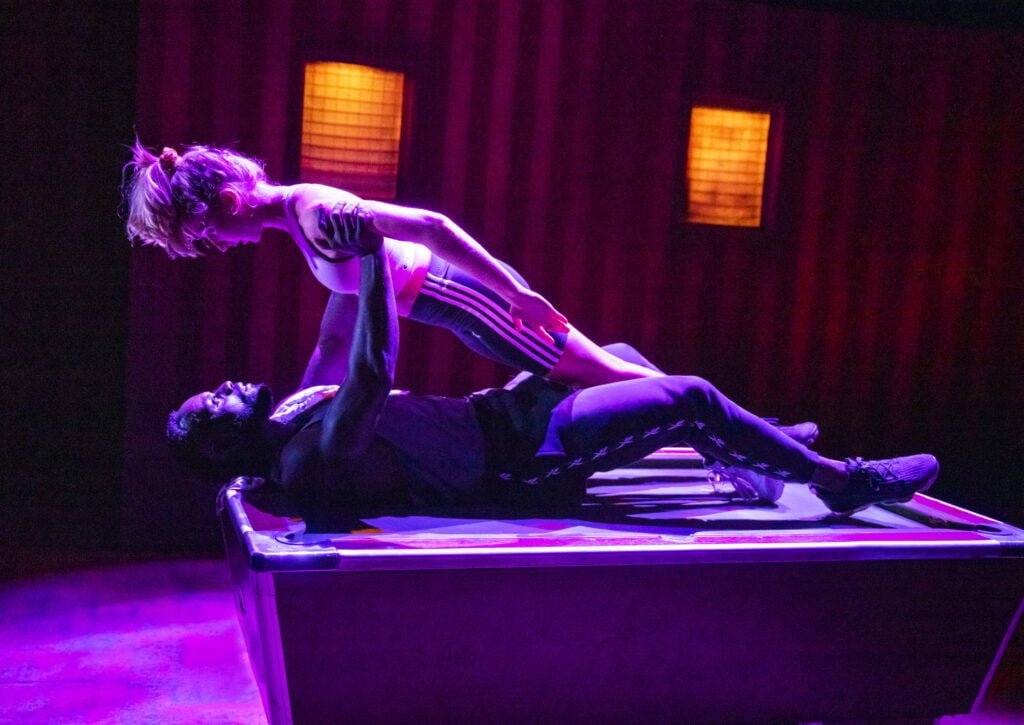 It is a joy to see an appreciative audience of A level students enjoying Shakespeare and Frantic Assembly give them a gripping and physically exciting play full of contemporary relevance and loud rock music.  Scott Graham and Steven Hoggett who founded Frantic Assembly excel at movement which is athletic and thrilling.   
Here Othello is set not in a political or even military setting except that we still know that Othello (Michael Akinsulire) has promoted Cassio (Tim Gill) instead of Iago (Joe Layton). The snooker/pool hall setting reminded me of the great play Black Watch where soldiers emerged from the snooker table in the first scene.  So there is no Cyprus nor Duke of Venice and no one really in charge.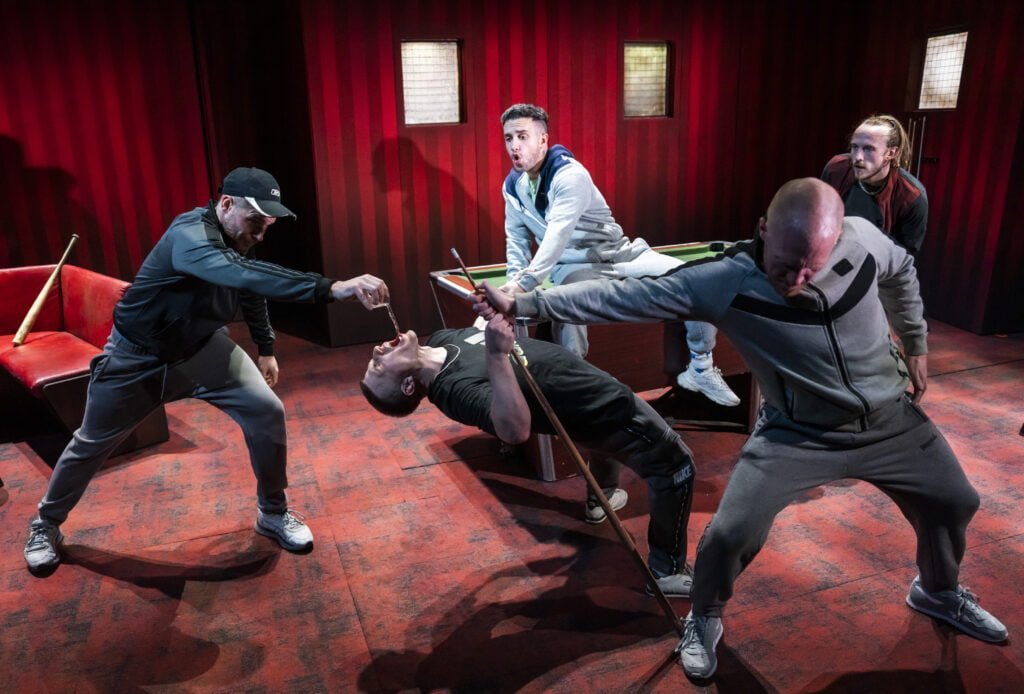 Desdemona (Chanel Waddock) is as close to Estuary English as I have ever heard, dressed in shorts and jeans jacket with her hair scraped back, into what used to be known at a Croydon Council facelift.  This accent created incongruity when Emilia and others call Desdemona "My Lady" when Desdemona appears to be from the same class as her servant.   She shouts at her father, " I am your Door – t – err".
Othello looks as if he spends most of his life in the gym creating the ultimate body beautiful if muscles are your sort of thing!  This is Othello in a working class setting with not an iota of racism in context other than Desdemona being white and her father Brabantio (Matthew Trevannion) mentioning how he has welcomed Othello into his home.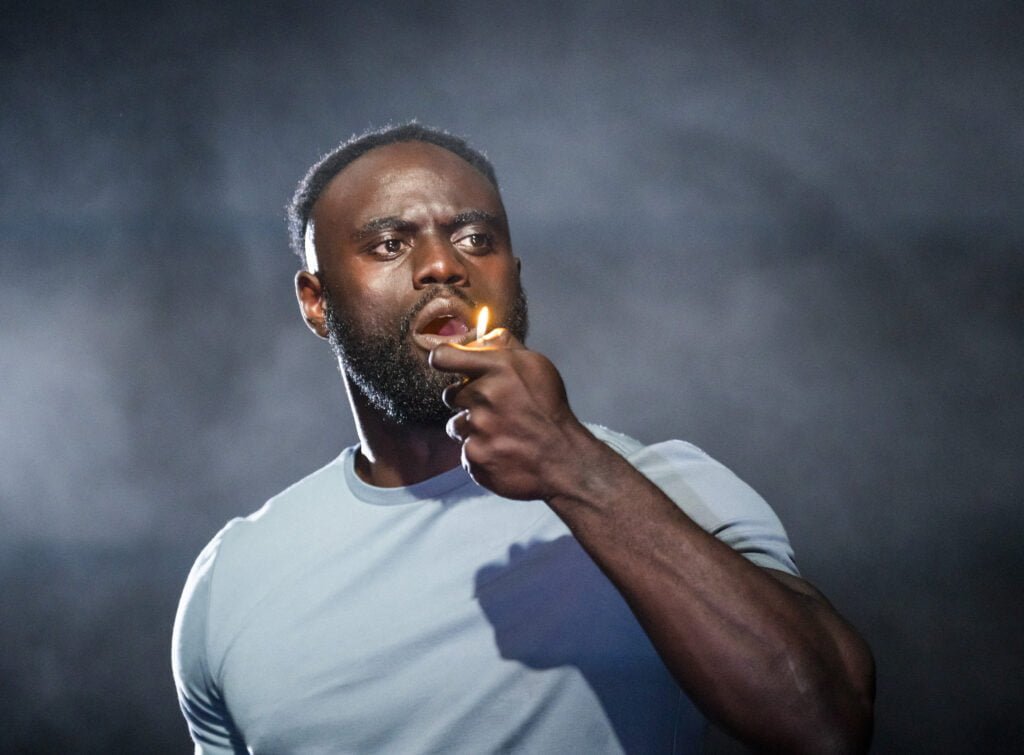 The preface to the new text of Othello explains that Othello is a local gang leader and Iago's resentment is based on preferment. Little is made of the reference to Othello having tupped Emilia (Kirsty Stuart) as Iago's suspicion. Instead we have no inkling as to why Othello should believe Iago and why Emilia should give the handkerchief to Iago rather than back to Desdemona.
I think it is excellent that school parties should be brought to Shakespeare with a beautifully lit and throbbing production of dance fighting but I do wish they will also return to Shakespeare's text to grasp more of the political context and power dynamic. Is it Brabantio warning Othello that Desdemona might betray him, as she has her father, which sets up his jealousy and willingness to believe Iago? Othello's madness is underplayed in this production where violence rules.
As Othello and Desdemona make love on the pool table you will have to wait to the end to see "the beast with two backs". Frantic Assembly's Othello is a brilliant introduction to the tragedy but please take it further.
Othello

Adapted by Scott Graham and Steven Hoggett
Written by William Shakespeare
Directed by Scott Graham
Cast
Starring:
Hannah Sinclair Robinson
Joe Layton
Kirsty Stuart
Matthew Trevannion
Tom Gill
Chanel Waddock
Michael Akinsulire
Oliver Baines
Felipe Pacheco
Creatives
Director: Scott Graham
Designer: Laura Hopkins
Lighting Designers: Natasha Chivers and Andy Purves
Sound Designer: Gareth Fry
Information
Running Time: Two hours 15 minutes with an interval
Booking to 11th February 2023
Theatre: 
Lyric Theatre
King Street
Hammersmith
London W6 0QL
Box Office: 020 8741 6850 
Website: lyric.co.uk
Tube: Hammersmith
Reviewed by Lizzie Loveridge at the Lyric Hammersmith 
on 25th January 2023