Rebus Investigates on Stage
"Instagram: Sounds like a drug dealer who does fast deliveries "
John Rebus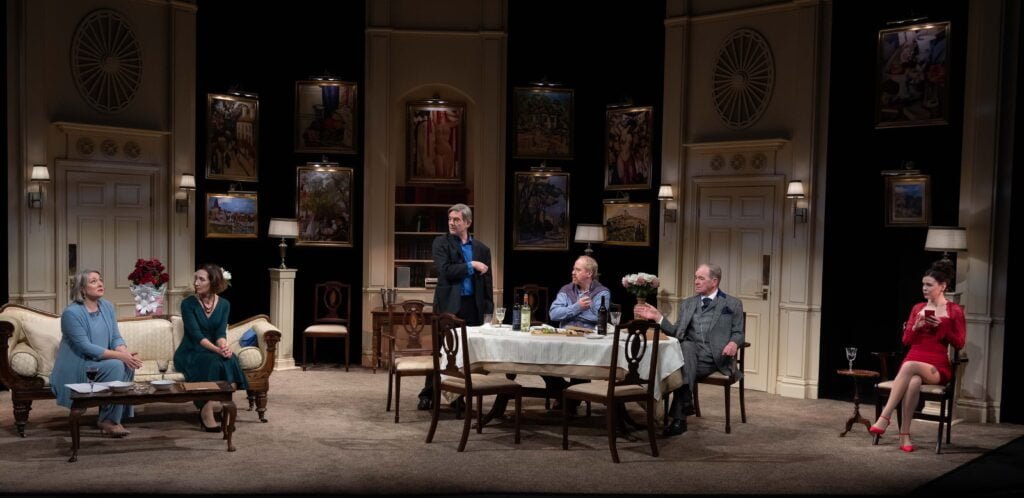 Set in a gracious Georgian house in Heriot Row in Edinburgh's New Town is Ian Rankin's latest dramatic mystery.  I had just finished reading the novel A Heart Full of Headstones when I searched to find out where else I might find the charismatic Edinburgh detective John Rebus.  Here at the Queen's Theatre in Hornchurch in the London Borough of Havering was the production of Rankin's latest play, written together with Simon Reade. 
And better John Michie from Taggart and Holby City was to star as the recently retired police inspector.  John Rebus is the guest of lawyer Stephanie Jefferson (Emily Joyce) at the home of the Godwins, their splendid living room hung with the art of famous twentieth century Scottish artists, like Cadell, Peploe, Fergusson and Hunter.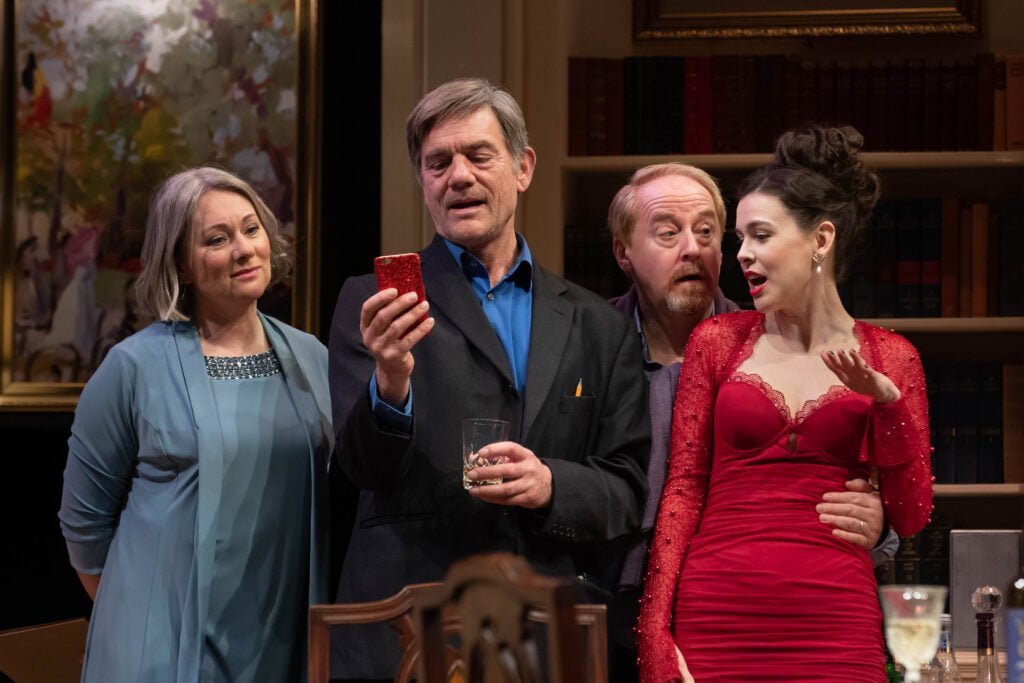 Harriet Godwin (Rebecca Charles) has devised a murder mystery game to entertain her guests.  She is a serious looking woman married to Forbes Masson whose charms are always lost on me. He is probably a very good actor!  Her four guests are Rebus and his lady lawyer, a casino owning business man in bespoke tweed suit, Jack Fleming (Billy Hartman) a widower in his 60s, and his squeeze is a provocatively dressed young woman in a low cut, very short red dress.  She is Candida Jones (Emily Noakes) and describes herself as a social influencer.  Candida is from a completely different milieu to the other hosts and guests but she makes a living reporting on the rich and celebrated.  She and Jack make an incongruous couple. 
In speeches to the audience which frame the action, John Rebus will explain how he "reads the room", studying it, noticing certain truths staring you in the face. John Michie is such a impressive fit for John Rebus with his sharp intellect and dry wit. Michie's Rebus has the air of unconventionality, hinting at Rebus's attractively rebellious nature.  Despite the shallow fashion of her social media career, Candida is very bright and maybe we have a new wingman here for Rebus. Rebus is happy to use Candida's excellent internet research skills.  There is some history between Rebus and Jack Fleming, and Fleming shows his dislike of policemen by recalling a mutual acquaintance.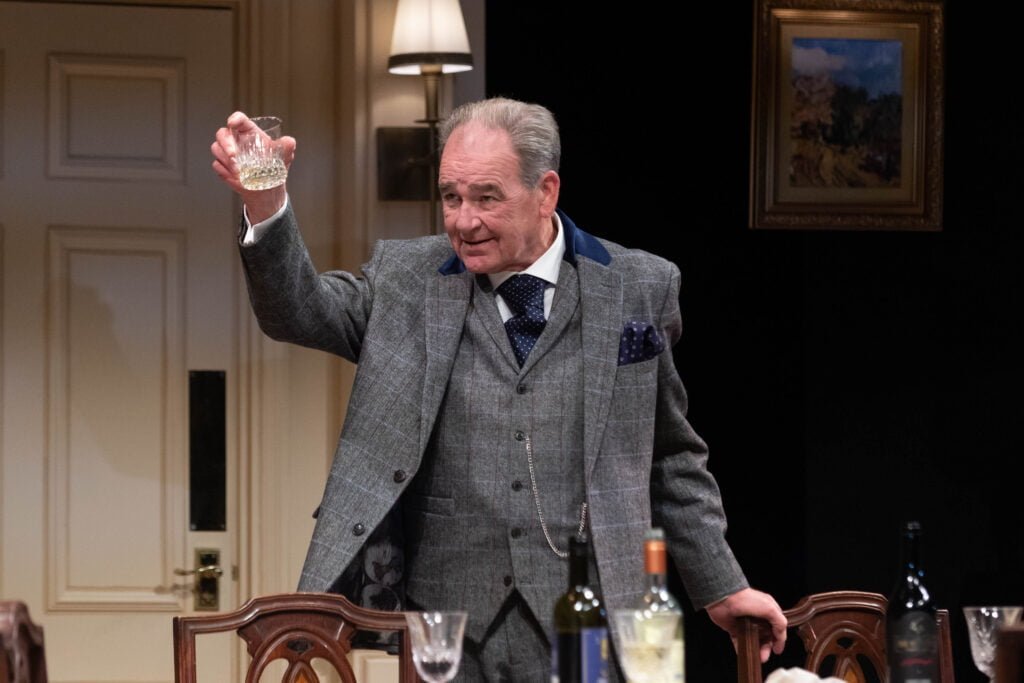 We learn that the art was collected by Harriet's first husband, Callum and guess that the house is probably owned by her rather than Paul Godwin.  The game format starts to hint at the state of the Godwins' marriage and by the interval a body will be found upstairs in the ensuite bathroom. I will not give any more of the plot away except to say that it is well constructed, believable and not outlandish.  Siobhan Clarke may be investigating off stage!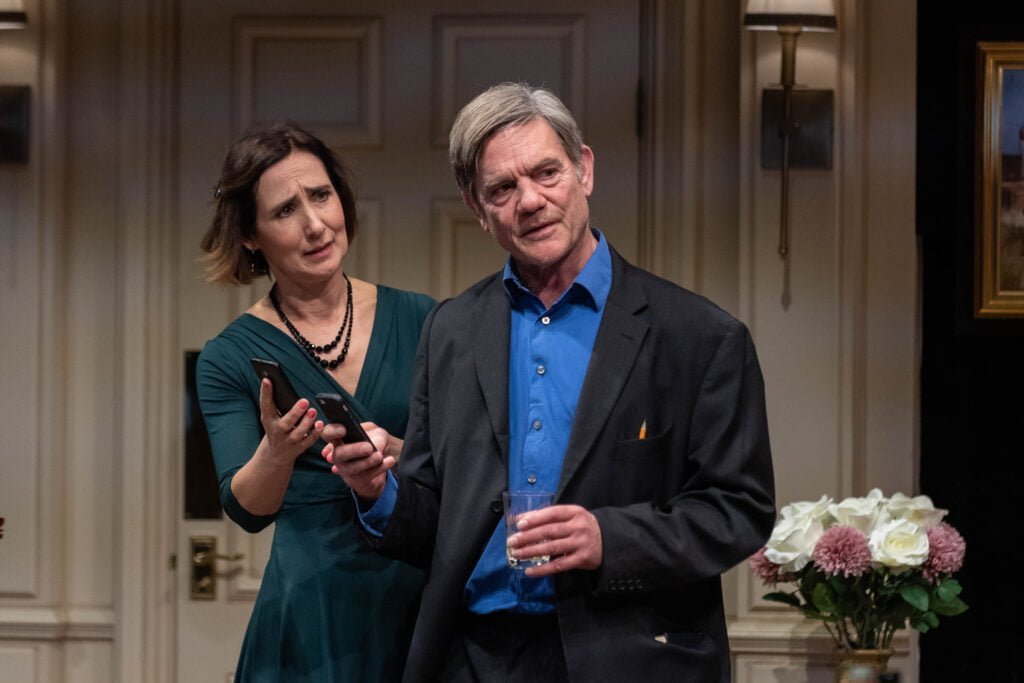 All credit to Terry Parsons for his magnificent set with Georgian furniture and of course the gorgeous paintings.  Robin Lefevre is a very experienced director and this smooth production is tip top and deserves a life beyond Hornchurch with its outstanding acting performances. I shall be back to see Roy Williams's Sucker Punch at this producing theatre from the end of March. 
And please Sir Ian Rankin, keep writing both the novels and the plays!  I am awarding five stars from Theatrevibe, the site that doesn't do stars, for the enjoyment of this original play.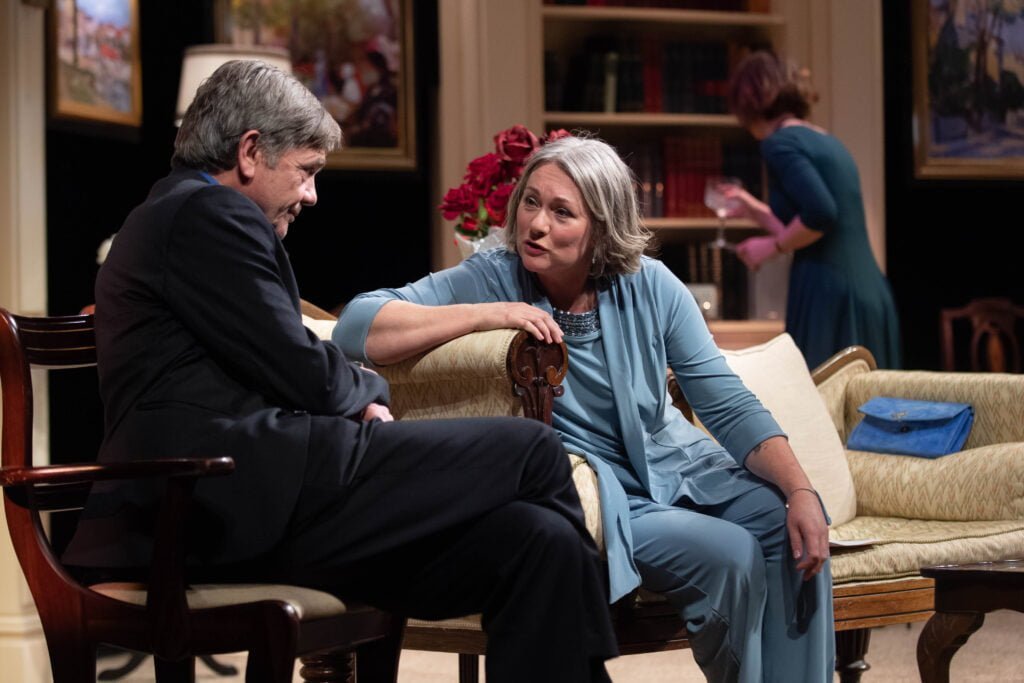 REBUS: A Game of Malice

Written by Ian Rankin and Simon Reade
Directed by Robin Lefevre
Cast
Starring:
John Michie
Rebecca Charles
Billy Hartman
Emily Joyce
Forbes Masson
Emma Noakes
Creatives
Director: Robin Lefevre
Designer: Terry Parsons
Lighting Designer: Matthew Eagland
Composer/Sound Designer: Gareth McConaghie
A Queen's Theatre Hornchurch Production in association with
Daniel Schumann and Lee Dean
Information
Running Time: One hour 40 minutes including an interval
Booking to 25th February 2023
Theatre:
Queen's Theatre
Billet Lane
Hornchurch
RM11 1QT.
Box Office enquiries:
boxoffice@queens-theatre.co.uk
Rail : Emerson Park
Telephone: 01708 443333
Reviewed by Lizzie Loveridge at the
Queen's Theatre, Hornchurch on 4th February 2023