Fabulous Eugenius! Finds a Future
"I can take on anyone, even if its Megatron
I'll find a way, oh I'll make them pay
I'll beat down every door, 'til I stop that Skeletor
I'll find a way, I'll save the day
Comic book kind of love"
Lyric from Comic Book Kind of Love

I came to the party late!  5th September 2018 was the opening night of Eugenius! for maybe the second time at the Other Palace.   Warwick Davies and his family were there.  People walked past, did a double take, and then grinned widely.  It was a complete celebration of a musical that took me right back to the Kings Road in the 1970s when Tim Curry and Richard O'Brien blew the roof off a former cinema with The Rocky Horror Picture Show.  
I had missed the London Palladium outing of Eugenius! where Warwick himself had played Lex Logan.  I was there to see Rob Houchen and it was a memorable night for many reasons.   I met Reece Cansdale my web designer for the first time that night who said I must go and see Six.  I did and I loved it!
I booked and paid for a pair of tickets to return to see this fun musical again.  Scott Paige was memorable as Theo, the Hollywood scout for Lex.  Eugenius! had everything, rock music, dance, great singing and above all wit!  The mystery was why Eugenius! never made the leap to transfer after a backer had to pull out.  It had such a Twitter following, the audience were ready and waiting.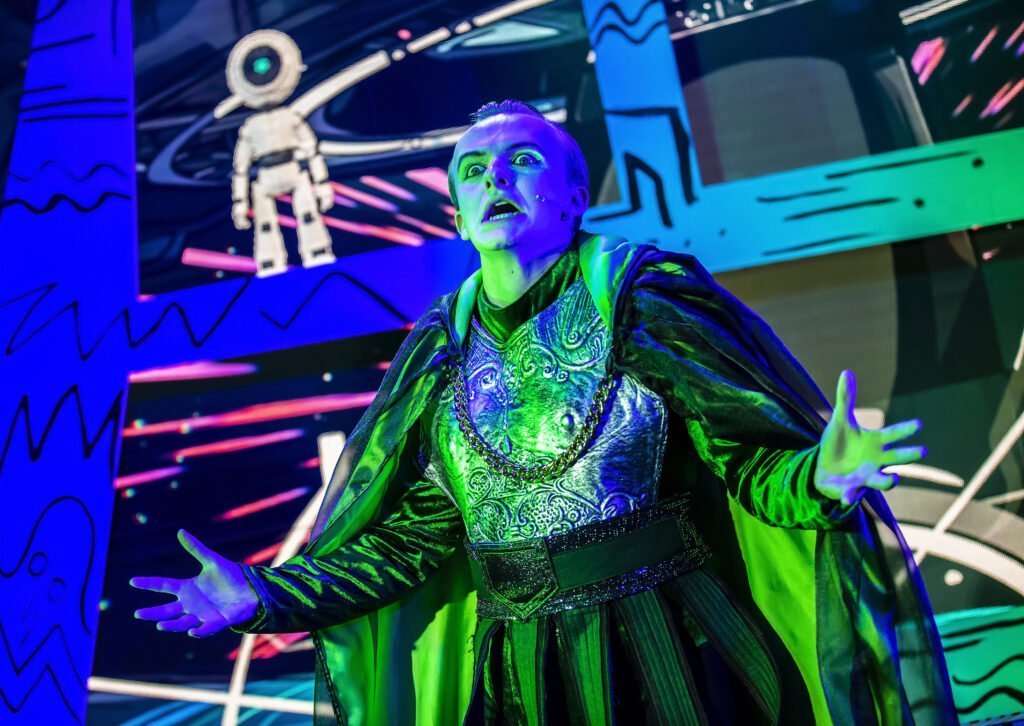 There was only one female cast change I wished for then and it wasn't the wonderful Laura Baldwin who was divine as Janey.  Maybe her transformation from geeky schoolgirl to sexy heroine didn't please the woke brigade but I loved it.  Read the fabulous review of Eugenius! in 2018 HERE.
The main issue at the Turbine is the lack of space to stage Eugenius!  It is a crying shame the stage can't be wider and, in all fairness, I have never noticed this being an issue before at this innovative and exciting venue.  The singing is superb, the rock numbers the same but everyone is too close together.  
I was not happy with the gender switch for Lex Logan (Lara Denning) as the male Hollywood producer, who is a villain here, he actually benefits from his association with the sleaze of the casting couch scandals.  I preferred my Hollywood sidekicks in suits and ties like their leader rather than T shirts with Powermax Pictures printed on them.   Having said that Lara Denning is a strong performer.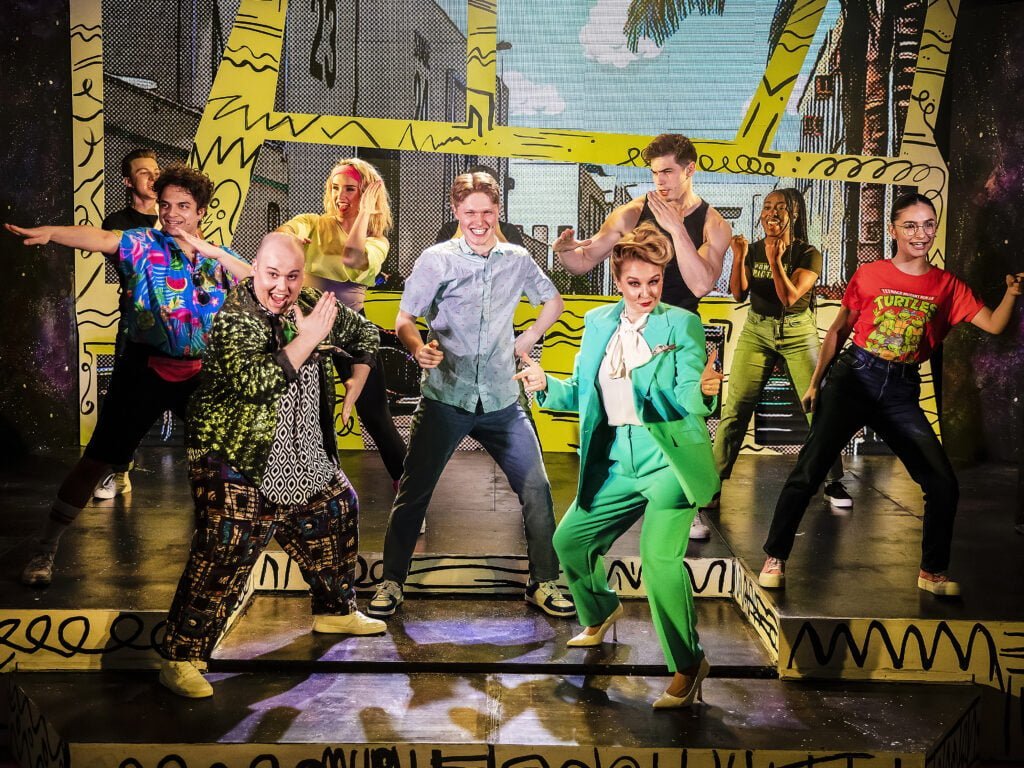 Evil Lord Hector (Joseph Beach) is very good in voice, design and highly camp impact but we have lost some of his origin with a small image of his robot nanny.  I loved the Fish People more this time, the thinking person's mermen and mermaids, obviously being so close to the Thames helps! 
Elliott Evans has the modest looks as Eugene but I wish he'd lose that 1980s centre parting but he can sing really well. Jaina Brock-Patel brings her experience from the touring production of Six and she can certainly belt out numbers but I'd like to see more softness in her Janey.  James Hameed as Feris is an excellent fellow Geek and comedy actor but again he needs more space in the scenes with the Stock Jocks. 
The stand out songs are Comic Book Kind of Love  a gloriously romantic ballad and the rousing finale number Go Eugenius! which brings everyone to their feet. 
The energy is great but again the choreography has too little room to show it at its best, all of which of course will be fixed when Eugenius!  can hopefully return post Heathers to the Other Palace.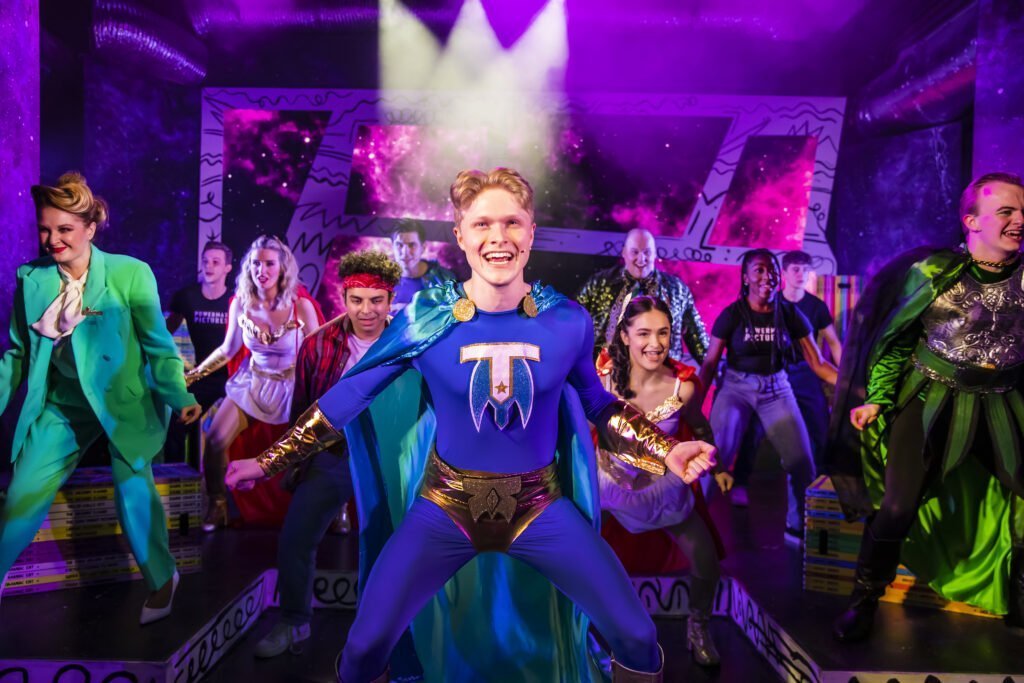 Act One
Tough Man
G.E.E.K.
Who's That Guy?
Origins
Comic Book Kind of Love (Solo) 
Go You Genius
Ticket to Hollywood
Lex Hogan
A Little Kick Ass
The Future's Bright
She's Amazing
Hollywood
Act Two
Hands Up!
The Dance of the Fish People
Evil
The No Pants Dance
Happy Endings Don't Exist
Don't Shoot for the Stars, Shoot Higher
Boo!
Comic Book Kind of Love
Go Eugenius! (Finale)
Eugenius! 
Book, Music and Lyrics by Ben Adams and Chris Wilkins
Directed by Hannah Chiswick
Cast
Starring:
Dominic Andersen
Joseph Beach
Lara Denning
Rhys Taylor
James Hameed
Naomi Alade
Elliott Evans
Jaina Brock-Patel
Louis Doran
Maddison Firth
Sebastian Harwood
Creatives
Director: Hannah Chiswick

Choreographer: Aaron Renfrew
Set and Lighting Designer: Andrew Exeter
Musical Director:  Nick Pinchbeck
Sound Designer: Alistair Penman
Video Design: Andy Walton and Andrew Exeter
Information
Running Time:
Two hours 20 minutes with an interval
Booking until 28th May 2023 

Theatre:
Turbine Theatre
Arches Lane
Circus West
London, SW11 8AB
Phone: 020 7851 0300
Tube: Battersea Power Station
or Riverboat to Battersea Power Station
Reviewed by Lizzie Loveridge
at the Turbine
on 22nd March 2023