Sidney Poitier in Joe McCarthy's America
"All this time I thought I was finding it hard to get work because I was Black, now I learn it was because someone told you I was red."  
Sidney Potier in Retrograde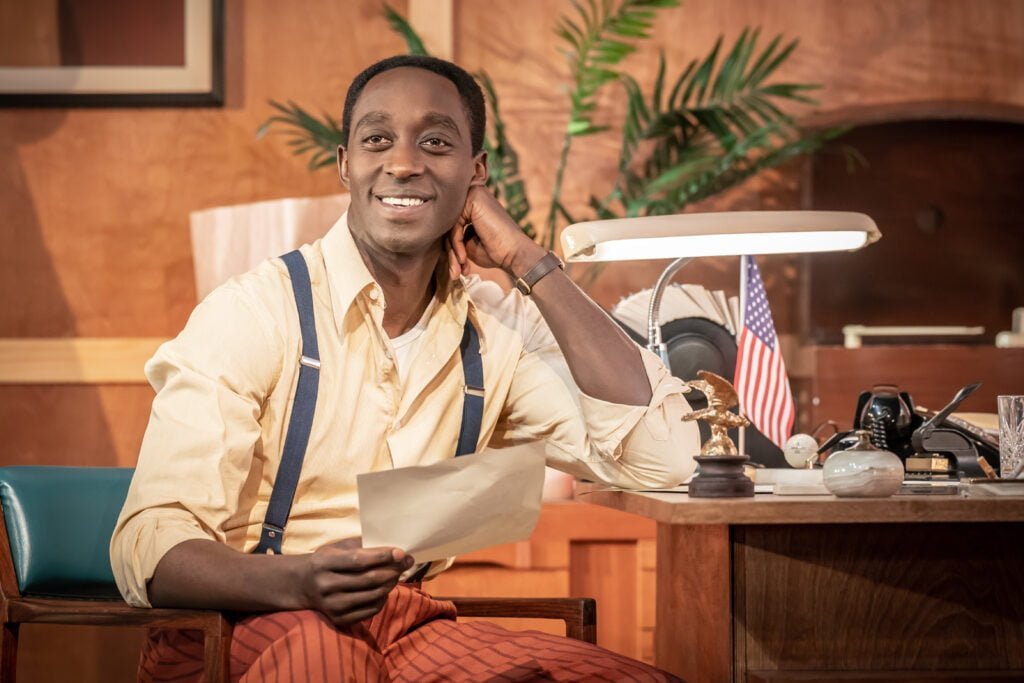 In 1950s, a young Black actor called Sidney Poitier is offered a contract that can make his career. He's still scratching a living running a streetside food stall, even though he's made a well received film called The Blackboard Jungle.  This is the stuff of the American dream.
But half of Hollywood is terrified of Senator Joe McCarthy's House Un-American Activities Committee, and the other half is in cahoots with it.  So before Poitier gets the contract, he must sign a "loyalty oath" and publicly denounce Paul Robeson.
That, really, is the story of Retrograde, except that I haven't told you how it ends.  On this one incident, playwright Ryan Calais Cameron has built a tense, thoughtful and gripping 90-minute play, which is performed straight through without an interval, probably because director Amit Sharma did not want to break the tension.
At first sight it looks like a play about race, about the experience of being black in America, but it's really more about politics and political freedom. What they hold against Paul Robeson is not so much that he's Black, as that he's a socialist.  Poitier will be allowed to have a successful career as a Black actor, so long as he provides ammunition against Robeson, and promises to say only the correct things.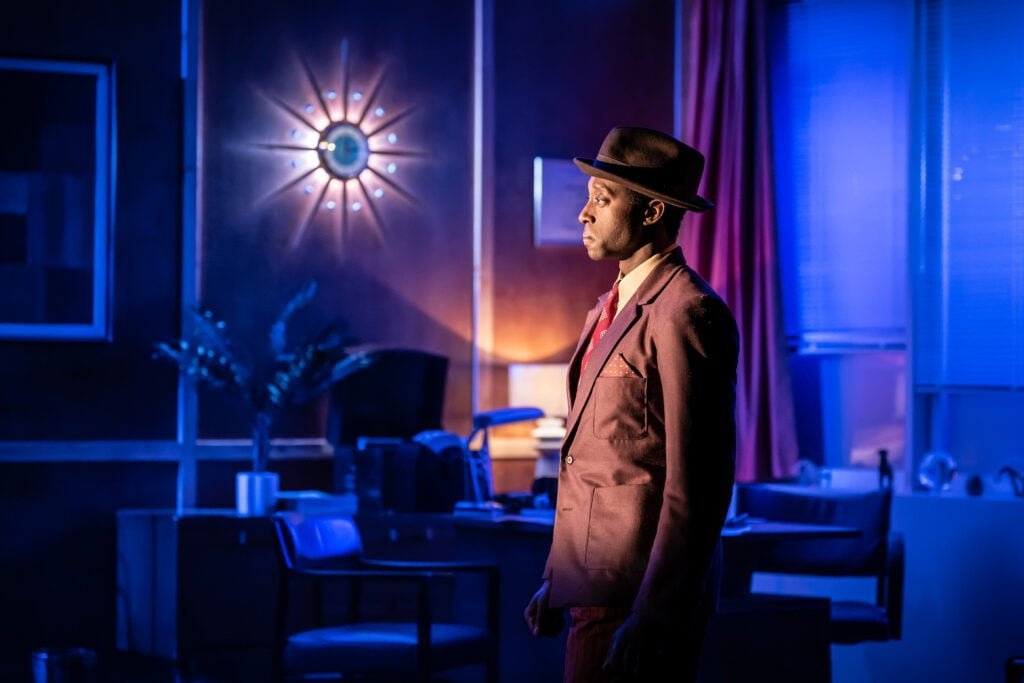 What it tells us about America is only partly about race.  It also tells us that the 1950s were a very dark time indeed, when freedom was under sustained attack, ironically in the name of freedom.
At the centre of it is an assured performance by Ivanno Jeremiah as Poitier, who takes us with him on the character's journey, from assured young actor with a contract he has dreamt about, through the realisation that not all is at it seems and the contract is dependent on more than his talent as an actor, and out the other end.  Jeremiah is a massively talented actor of whom we should hear much more, and in this production he has the confidence to put in a deliberately understated performance.
Daniel Lapaine has the very hard task of playing a character with no redeeming qualities – the studio's lawyer Larry Parks, who also works for J. Edgar Hoover's FBI. We may not like Parks, but Lapaine ensures that we understand what drives him.
Ian Bonar as Bobby, a scriptwriter and friend of Poitier's, offers us a man who is conflicted between his loyalty to Poitier and his future in the studio.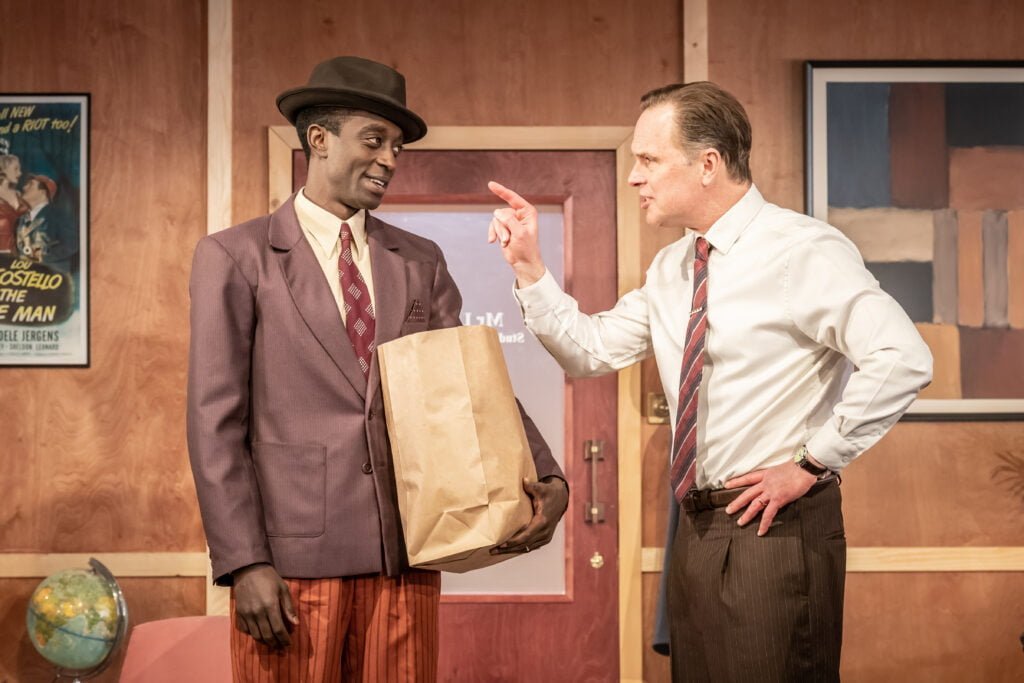 The sizzling script and the fast-paced direction keep us on the edge of our seats for the whole 90 minutes – in moments of silence, a clock ticks ominously – and offer us some laugh-out-loud moments along the way. "You'll be blacklisted," promises Parks. "And being blacklisted is no joke if you're already black." Later he assures Poitier: "I'm the good guy. The horns are only there to hold up the halo." The philistine Parks says he loved Poitier in "Black Boys Jingle." "Board Jungle" mutters the actor.
This play is more timely than its author could have hoped for. It looks at one of the darkest times in American history, when the freedom that the country is supposed to be built on was under sustained attack in a way that it has not been in the subsequent half century – until now, when the sinister figure of Donald Trump looks set to eclipse even Joe McCarthy himself. And it frequently references Harry Belafonte, who died at 96 just as the play opened.
Ryan Calais Cameron is starting to look like a major playwright, after the success of For Black Boys Who Have Considered Suicide When The Hue Gets Too Heavy, and Retrograde will reinforce this perception.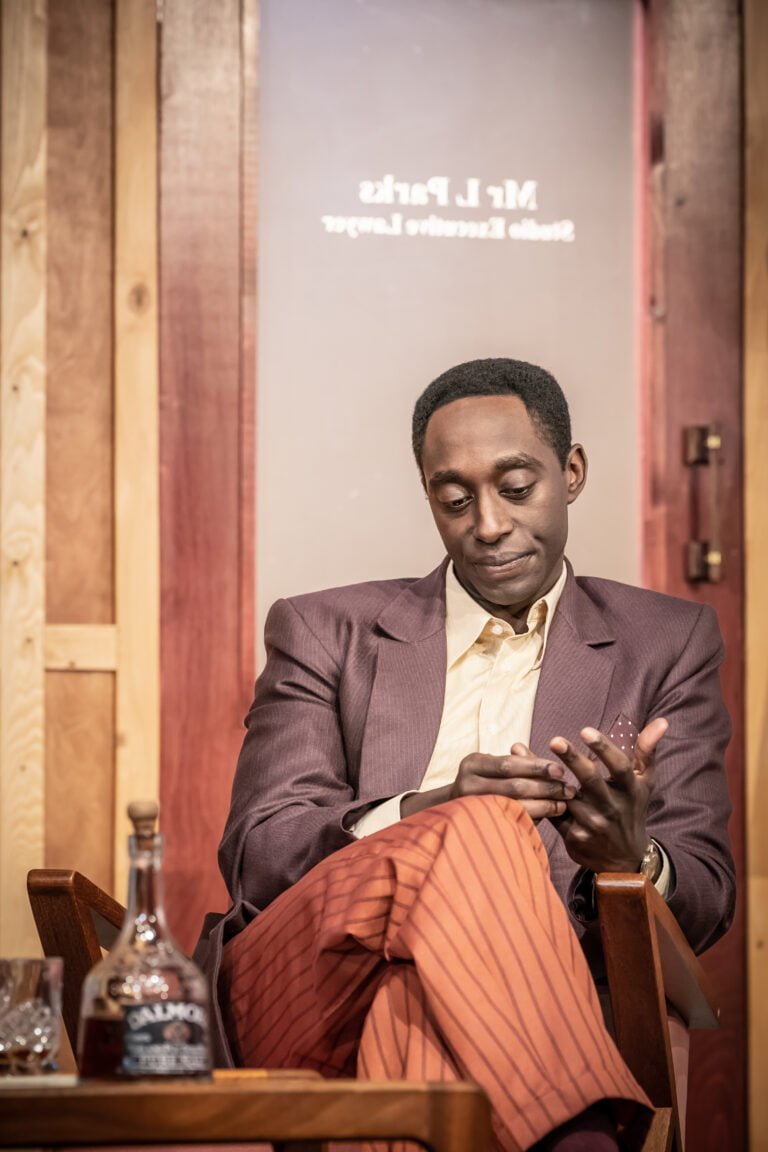 Retrograde

Written by Ryan Calais Cameron
Directed by Amit Sharma
Cast
Starring:
Daniel Lapaine
Ian Bonar
Ivanno Jeremiah
Creatives
Director: Amit Sharma
Designer: Frankie Bradshaw
Lighting Designer: Amy Mae
Sound Designer: Beth Duke
Information
Running Time: One hour 30 minutes without an interval
Booking to 27th May 2023
Theatre: 
The Kiln
 269 Kilburn High Road
 Kilburn
 London NW6 7JR
Rail/Tube: Brondesbury,
Kilburn
Reviewed by
Francis Beckett
at the Kiln Theatre
on 27th April 2023