Is It Groundhog Day Again?
"Will he see his shadow?"
About both Phils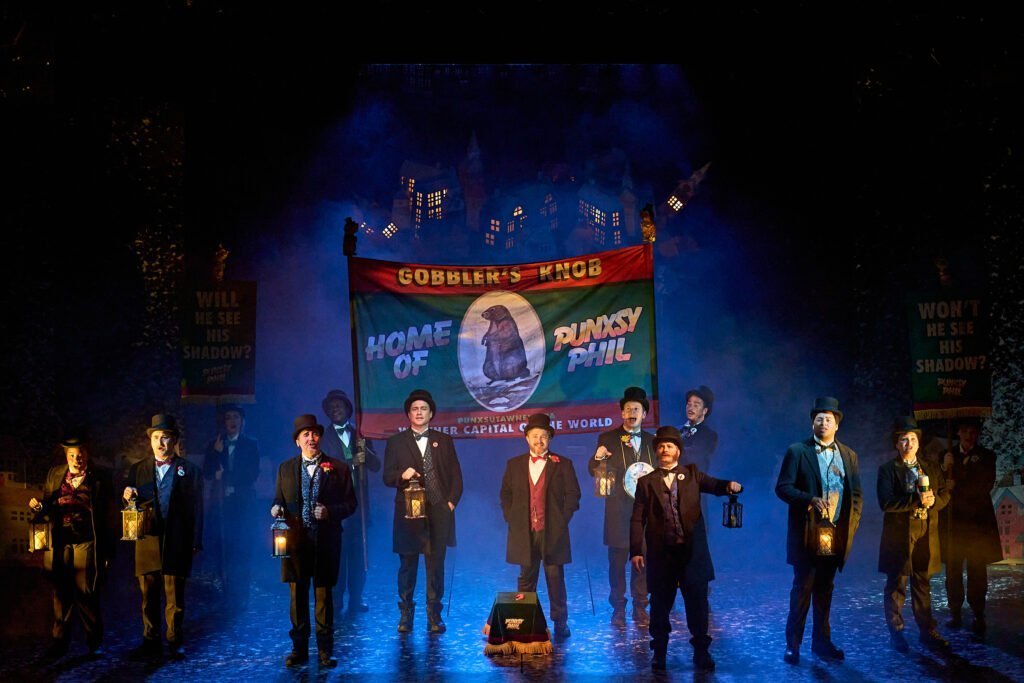 Little has changed from memory of this charming home grown musical from the team that brought us Matilda. Scroll down for my full review of Groundhog Day from 2016 including the song list.  A CD is available of the music from the show. 
Many will be pleased to see the return of Groundhog Day from 2016 which saw the Olivier winning musical not getting the deserved run in the West End but a problematic time on Broadway.  It isn't especially memorable for its music but the songs are tuneful, varied in style, the singing superb and the performances full of wit and charm.  
It is really good that Andy Karl (Olivier winner for this show) was able to reprise his role as his Phil Connors makes the transition from selfish and sexist to a caring member of the community and a decent, attractive lover.  As Rita (Tanisha Spring) is the target of Connors' sexism but her good nature wins through and her voice is divine.  Special mention should be made of Paul Kieve's illusions for the show which cause surprise and wonder.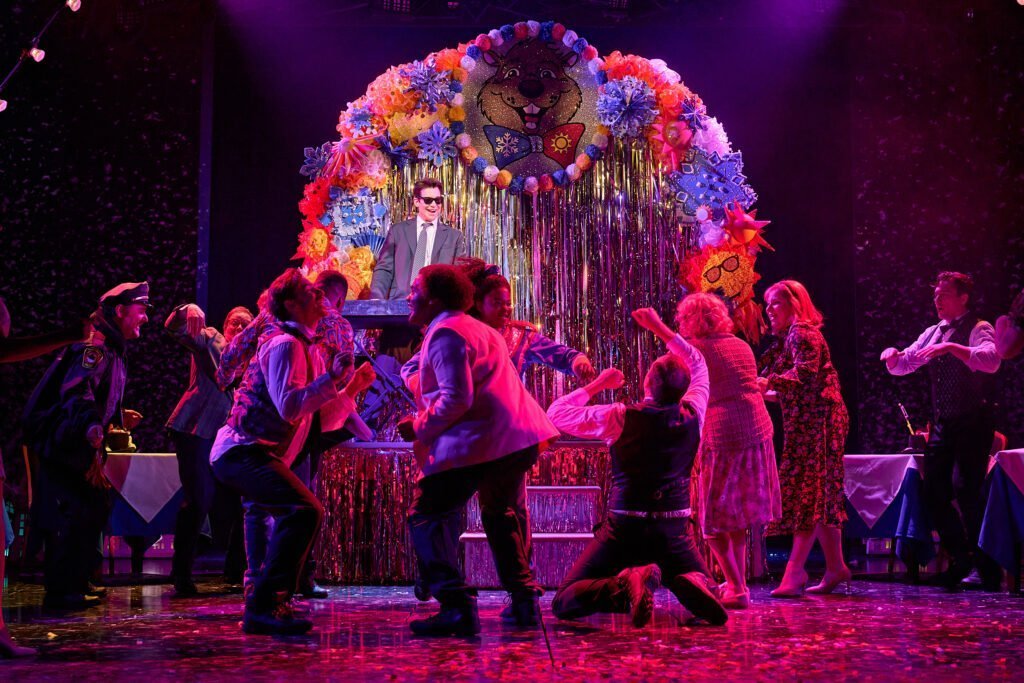 I liked Rob Howell's quirky designs for Punxsutawney, the yellow lights in the windows of the higgledy piggledy houses and the miniature car chase through the town.  All the town's characters are there, the alcoholics in the bar, the landlady (Annie Wensak) with the terrible coffee, the Sheriff (Mark Pearce) who announces the road closures due to the blizzard to the diner/coffee shop customers. We should be word perfect on that scene by the end of the show.  A very appreciative audience was there which was not a press night and it is obvious that Groundhog Day the Musical has a following.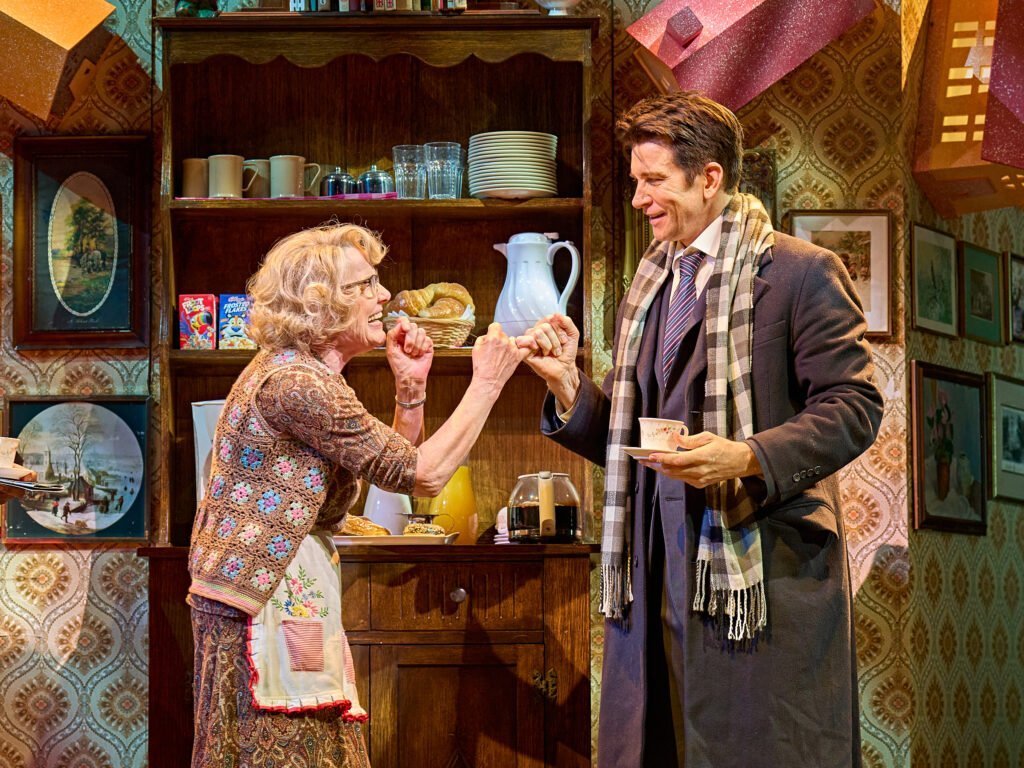 Repeating Groundhog Day has a special significance due to its unique insertion into the language for things repeating.  Identifying with Andy Karl as Phil Connors, the television weatherman sentenced to Punxsutawney small town Pennsylvania, in the middle of a winter that is to continue, much as I enjoyed seeing it, imagine if it were the only production I could review for the rest of my life?   So here we have the ideal sequel to Groundhog Day, Groundhog Day Infinity about a theatre critic stuck in reviewing the same show!   Would the critic ever find redemption? 
However this isn't going to happen so go and catch Groundhog Day while you have the chance.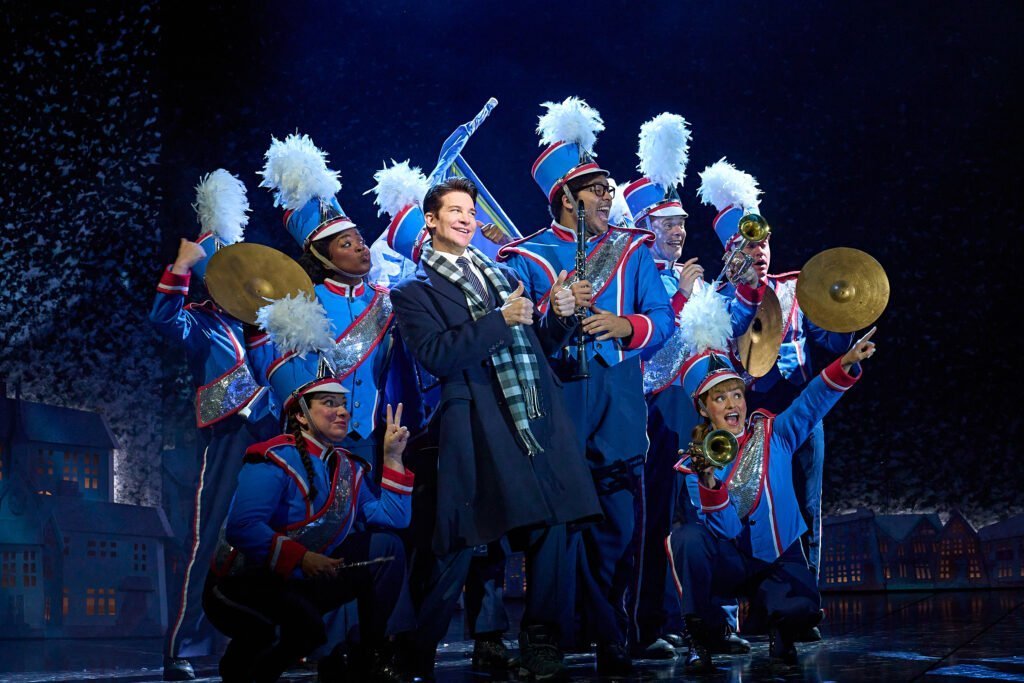 Groundhog Day

Music and Lyrics by Tim Minchin
Book by Danny Rubin
Directed by Matthew Warchus
Cast
Starring:
Andy Karl
Tanisha Spring
With:
Andrew Langtree
Annie Wensak
Ben Redfern
Billy Nevers
Chris Jenkins
Durone Stokes
Eve Norris
Jacqueline Hughes
Jez Unwin
Mark Pearce
Matthew Whennell-Clark
Nick Hayes
Rachel Moran,
Aimée Fisher
Ashlee Irish
Jasmin Colangelo
Kamilla Fernandes
Zack Guest
Alex Stoll
Kelly Ewins-Prouse
Creatives
Director: Matthew Warchus
Designer: Rob Howell
Orchestrator, 
Additional Music and Musical
Supervisor: Christopher Nightingale
Choreographer: Lizzie Gee
Set and Costume Design: Rob Howell
Costume Design: Jonathan Lipman
Lighting Design: Hugh Vanstone
Sound Design:  Simon Baker
Musical Director: Alan Berry
Illusions: Paul Kieve
Information
Running Time: Two hours and 35 minutes with an interval
Booking to 19th August 2023 at the Old Vic
Address:
Old Vic
The Cut
Waterloo
London SE1 8NB
Tube/Rail : Waterloo
Telephone: 0344 871 7628
Website: oldvictheatre.com
Reviewed by Lizzie Loveridge at the Old Vic
on 12th June 2023
Glorious Groundhog Day Repeats after 7 years!
If Candlemas Day be fair and bright, 
Winter will have another fight.
If Candlemas day brings cloud and rain,
Winter won't come again. 
Old English Proverb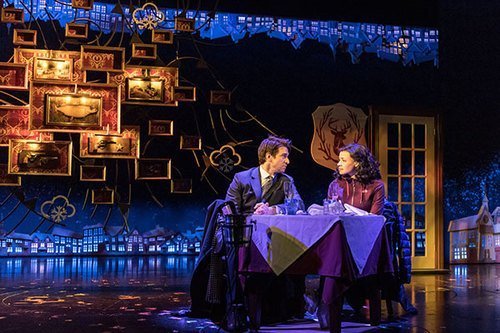 This is our review from 2016
Candlemas Day is 2nd February and its weather predictive powers seem to have crossed the Atlantic as "Groundhog Day",  when tradition has it that if Phil the groundhog can see his shadow, then winter will be here for another 40 days.  Set in Punxsutawney, Philadelphia there is a whole industry built up around the groundhog's shadowy emergence.  Set to cover this provincial story, is national broadcasting weatherman, Phil Connors (Andy Karl).  The mundanity of this annual event already has Phil bored out of his tiny mind, but little does he know that he is in for seemingly endless replays this year.  
We see the town of Punxsutawney in miniature cut outs like Victorian Christmas cards in Rob Howell's interesting set.  The higgeldy piggeldy houses have windows that light up yellow in this small town, a brass band plays cheesy tunes and the townsfolk look very ordinary.  The song "Small Town" is stuffed with witty lyrics and we can hear every word of therm.  There is beautifully jaded acting from Andy Karl as the celebrity weatherman is greeted by the locals in the kitsch filled diner. 
A blizzard seals off all access in and out of Punxsutawney and the local police pass on the bad news to Phil who was hoping to get back to the city.  We see his miniature news van having a spadeful of snow dumped on it.  Of course, many of us have seen the film and know that this could be a musical with rather repetitive scenes if not tunes.   As Phil wakes up again in his bed and breakfast and they have the same conversation about the coffee machine, the thought dawns on him and us simultaneously, "Will he be there forever?" Is this Jean-Paul Satre's Huis Clos? 
There is a lighting switch to green and purple for the mental health hospital ward and a wonderfully clever song about the drugs used in psychiatric medicine.  Choreographed psychiatric doctors animate the scene and then the minister is called in to perform an exorcism.  As Phil realizes there are no consequences to his actions, he is free to rob the bank and seduce most of the town's female population.  The police chase is brilliant seen in miniature.  
The inevitability of time's loop gets to Phil and there is a brilliant scene with endless attempts at suicide . . . . very clever and using Paul Kieve's illusions.  The music has variety from blue grass to rock and lots inbetween.  Carlyss Peer as Rita the producer keeps Phil grounded and after the interval, Phil will make amends to all for his previous hard heartedness like some kind of Step programme participant.  I found all the redemptive doing good,  a tad less enjoyable in the second half,  but not everyone is as cynical as I am and likes their musicals dark.   I was really impressed by Andy Karl's strong singing voice but even more by his acting ability as only we share the knowledge of the repetition.  
Just as I was thinking that the show was a bit short on dance, the whole cast are involved in a tap routine.  The musical's plan to go straight to Broadway is in question after a major sponsor withdrew (NOTE: It did in 2017) but Groundhog Day deserves to be seen again . . . and again . . . and again.  
Act One
There Will Be Sun
Small Town, USA
Punxsutawney February 2nd
There Will Be Sun
Small Town, USA (Reprise)
Punxsutawney February 2nd
There Will Be Sun
Small Town, USA
Stuck
Nobody Cares
Philandering
One Day
Act Two
Playing Nancy 
Hope 
Everything About You 
If I Had My Time Again 
Everything About You (Reprise)
Philosopher Night Will Come 
Philanthropy
Punxsutawney Rock
Seeing You
Dawn 
Groundhog Day

Music and Lyrics by Tim Minchin
Book by Danny Rubin
Directed by Matthew Warchus
Cast
Starring:
Andy Karl
Carlyss Peer
With:
Leo Andrew
David Birch
Ste Clough
Roger Dipper
Georgina Hagen
Kieran Jae
Julie Jupp
Andrew Langtree
Vicki Lee Taylor
Emma Lindars
Antonio Magro
Carolyn Maitland
Kirsty Malpass
Lisa Mathieson
Eugene McCoy
Jenny O'Leary
Leanne Pinder
Mark Pollard
Damien Poole
Jack Shalloo
Andrew Spillett
Spencer Stafford
Creatives
Director: Matthew Warchus

Orchestrator, 
Additional Music and Musical
Supervisor: Christopher Nightingale
Choreographer: Peter Darling
Co-Choreographer: Ellen Kane
Set and Costume Design: Rob Howell
Costume Design: Jonathan Lipman
Lighting Design: Hugh Vanstone
Sound Design:  Simon Baker
Musical Director: Alan Berry
Illusions: Paul Kieve
Information
Running Time: Two hours and 30 minutes with an interval
Address:
Old Vic
The Cut
Waterloo
London SE1 8NB
Tube/Rail : Waterloo
Telephone: 0344 871 7628
Website: oldvictheatre.com
Reviewed by Lizzie Loveridge at the Old Vic
on 17th August  2016
Now Booking 20th May to 19th August 2023 at the Old Vic