The Power of Knowing Black History ...
and Letting It Go!
"I have sworn to the ancestors that we are gonna set up this school of black studies and show the world that this is a new day.  We'll educate the black mind so it can never be manipulated again."
Beneatha Younger in 1971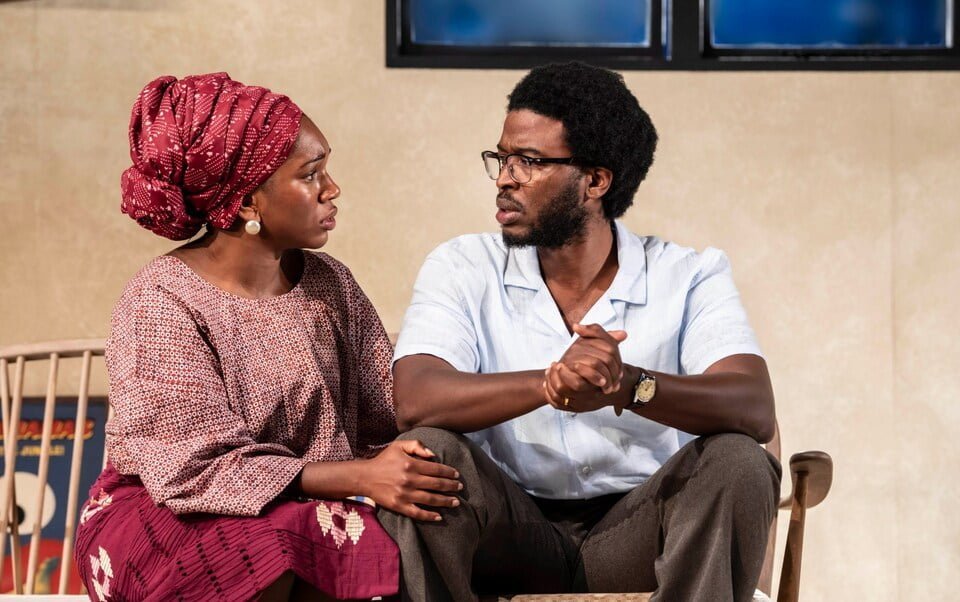 Kwame Kwei-Armah directs his 2013 play Beneatha's Place at the Young Vic. Based on what could have been the after story for Beneatha Younger in Lorraine Hansberry's play A Raisin in the Sun. Beneatha, an aspiring doctor from Chicago was to decide whether to marry wealthy and educated African American George Murchison or Joseph Asagai, a Yoruba student from Nigeria.
In Beneatha's Place, set in 1959 Beneatha (Cherrelle Skeete) has married Joseph (Zachary Momoh) and he is involved in politics as Nigeria seeks independence. They have moved to a new house in the affluent Lagos Hills which is being vacated by a pair of Southern Baptist missionaries from Alabama, Peter and Joan Nelson (Tom Godwin and Nia Gwynne). The missionary wife shows Beneatha the electric light and the kitchen in the most patronising manner, which made me cringe, as if Beneatha had only ever lived in a mud hut. Beneatha reacts with a satiric display of sarcastic wonderment.
The parallel story with A Raisin in the Sun and Bruce Norris' Clybourne Park is that Beneatha and Joseph are the first native family to move into this prestigious Lagos address. When Joseph first came back a few years before, he was put in prison by the British for his political activism and he is now someone that everyone talks about.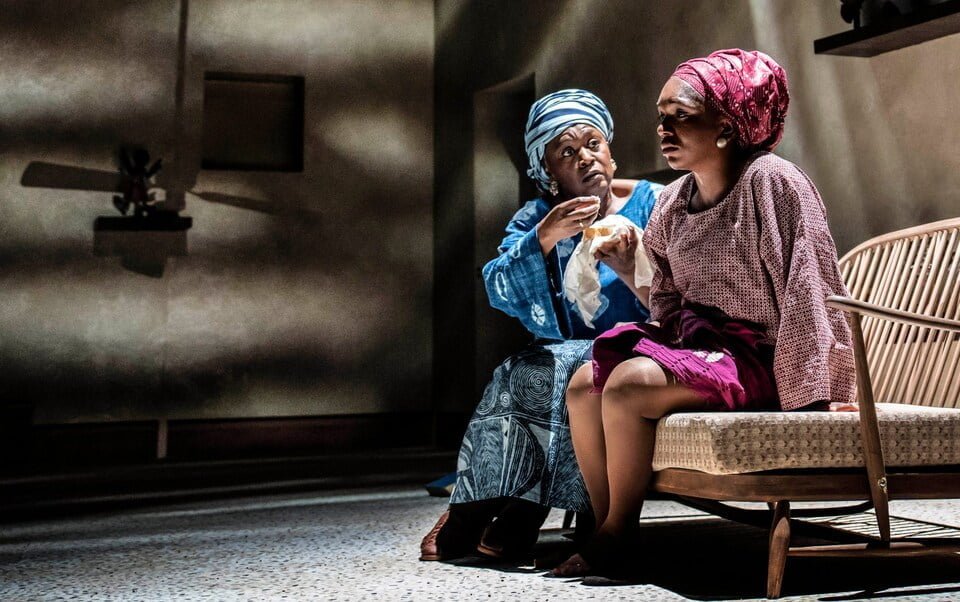 Now Joseph has been invited back from America to take part in Nigeria's Independence preparations. Joseph has a dark collection of extremely racist Jim Crow memorabilia to remind him as to how African Americans were perceived. There is more exploration of independence politics, the discovery of oil and corruption.
Two visitors arrive. Fola (Jumoké Fashola), given the title aunty for an older woman, not necessarily a relative, who tells Beneatha about how Joseph is trusted locally by the Yoruba population but that political success will create enemies. Daniel Barnes (Sebastian Armesto) is a neighbour, an American representing business interests but probably a spy.
This act has wonderful acting in it and the characters could make a whole play by themselves. The Prologue set in 1971 at a university in California has Professor Beneatha Younger telling a crowd of students that the white run university must set up a School of Black Studies.  Act One takes Beneatha back to Africa making her aware of African politics. 
Act Two is set in the present day where Beneatha is Dean of the College of Social Sciences at a top flight state university in the USA. The American academics are at a conference in Nigeria and are visiting Beneatha's house. The debate centres on whether to replace African American Studies with White Critical Studies.  The aim of White Critical Studies is to examine the power structures set up by white men, white privilege and white culture.  The argument is whether to make White Critical Studies a major and Black Studies an elective.  
This second act is dense with arguments among academics who are little more than mouthpieces for a particular point of view.  I am still not really clear on the issues here but I would like to carry on the debate.  It is hard being defined as the product of white privilege.  
Cherrelle Skeete is amazing travelling from age 24 to over 70, convincingly and always believable.  I remember how she took over the main part in Roy Williams' The Fellowship at very short notice.  The play is a strong ensemble performance but I also think Zachary Momoh as Joseph Asagai in the first act and as Wale Oguns the rich African American post grad student in the second act, is an actor of great promise. There are many interesting issues in Kwame Kwei-Armah's  play.  I wonder what he will write next?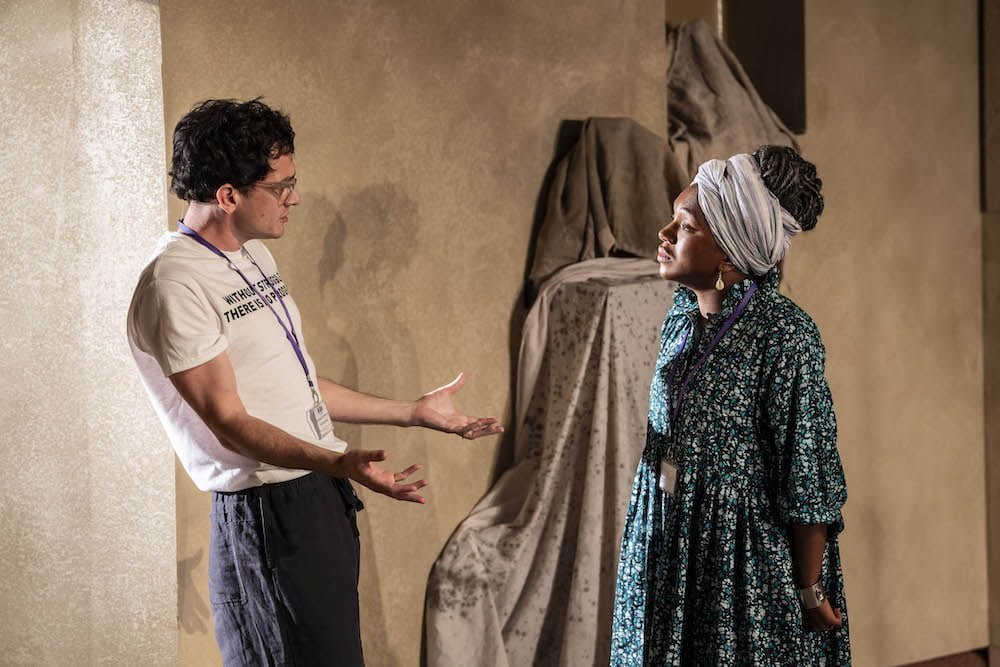 Beneatha's Place

Written and Directed by Kwame Kwei-Armah
Cast
Starring:
Cherrelle Skeete
Jumoké Fashola
Nia Gwynne
Sebastian Armesto
Tom Godwin
Zackary Momoh
Creatives
Director: Kwame Kwei-Armah
Designer: Debbie Duru
Movement Design: Shelley Maxwell
Lighting Designer: Mark Henderson
Sound Designer: Tony Gayle
Information
Running Time: Two hours and 15 minutes including  an interval
Booking to 5th August 2023
Theatre: 
Young Vic
66 The Cut
Waterloo
London SE1 8LZ
Tube/Rail : Waterloo/Southwark
Telephone: 020 7922 2922
Website: youngvic.org
Rail/Tube: Waterloo, Southwark
Reviewed by Lizzie Loveridge
at the Young Vic
on  7th July 2023