The Sound of Music as it was meant to be
"The Poor didn't want this dress "
Maria

Chichester Festival Theatre under Daniel Evans who is joining the Royal Shakespeare Company has produced my finest musical of recent years, South Pacific in 2021 and that of many others, Crazy for You in 2022 now showing in London at the Gillian Lynne.  
Their choice this year is the well known The Sound of Music which I last saw in 2006 in London at the Palladium after Connie Fisher was cast as Maria in a BBC reality casting series.  Originally that Sound of Music was meant to star Emma Williams who here plays Ella Schraeder who is meant to marry Captain Georg von Trapp (Edward Harrison).  Such was the public insistence after How to Solve a Problem Like Maria?  on seeing Connie Fisher, who was originally only meant to deliver four performances a week that Emma Williams' six months contract with Andrew Lloyd Webber was cancelled.  The result was that Connie Fisher permanently damaged her vocal chords and now cannot perform in musicals.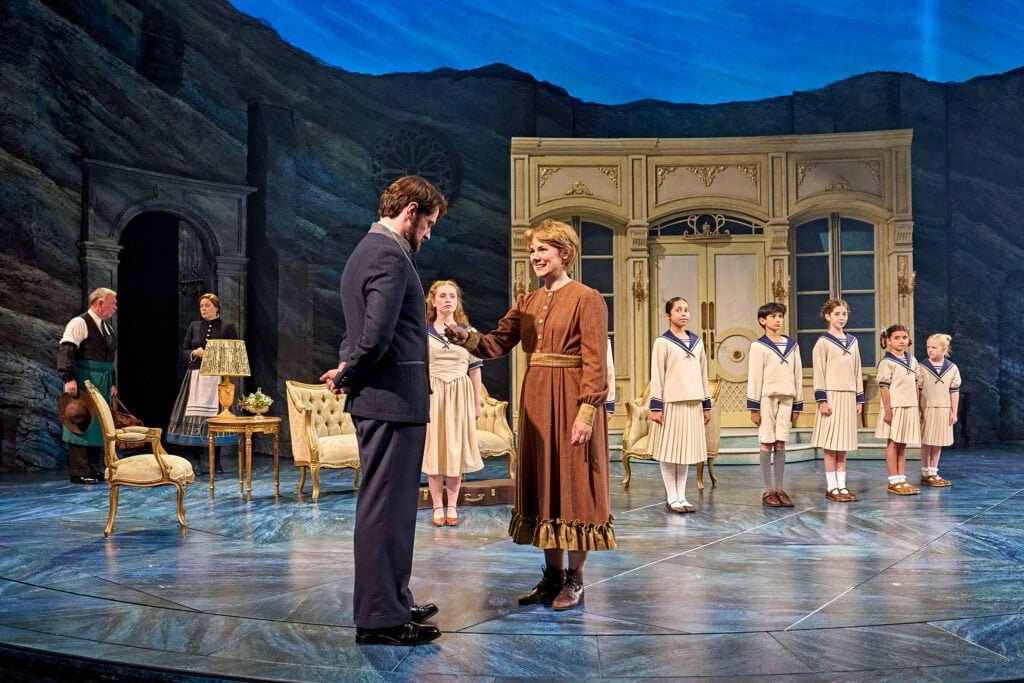 It is Gina Beck, whom I loved in South Pacific as Nellie Forbush, who is playing Maria and her youthful enthusiasm is as infectious as the young Julie Andrews. Adam Penrose's is a conventional production as are many of the Sound of Music fans who do not wish to see modernisation or deviation from their beloved musical.  
Robert Jones' sets are on a framing of the mountains near Saltzburg with dark turquoise polished granite in the foreground and mountains and clouds on the horizon. I was delighted to see an Austrian painted wardrobe, flowers on a green background in Maria's bedroom, such as I remember from a trip to the Italian Tyrol where most still speak German.   
Research into the original reveals many inconsistencies between the original story and Rodgers and Hammerstein's musical staging.  The family left Austria long before 1939 and caught the train not to Switzerland but to Italy and went to America. 
Maria went on to have three more children with her husband von Trapp. The von Trapps lost all their money in the Great Crash when an Austrian bank went bust.  The age gap between the former postulant Maria and her husband was 25 years.  It is reported that Captain Von Trapp was not the dragon he is shown to be in Rodgers and Hammerstein's production but a kindly and lovely father.  There goes Hollywood again!
However this production places German stormtroopers in the audience on stair entrances conveying the sense of menace from the German invasion and annexation of Austria the Anschluss, as the von Trapp Family Singers perform at the concert.  
The children (I saw the Green troupe) are delightful and their singing and choreography are tip top. At first we see them responding to the brutal naval whistle but soon Maria's influences come to bear upon the Captain. I felt quite tearful when Little Gretel (Felicity Walton) jumps into her father's arms. 
Janis Kelly, an opera singer is amazing as the Mother Superior as she guides Maria to leave the monastery to become firstly a governess and then a bride.   
In this production we understand that the Captain's rejection of the music is to do with the loss of his wife and the emcombrement of seven reminding children.  
If you are looking for a conventional rendering of a musical where you can actually depart singing the tunes The Sound of Music at Chichester is it!  Gina Beck has it all and a charming personality and the children are to die for.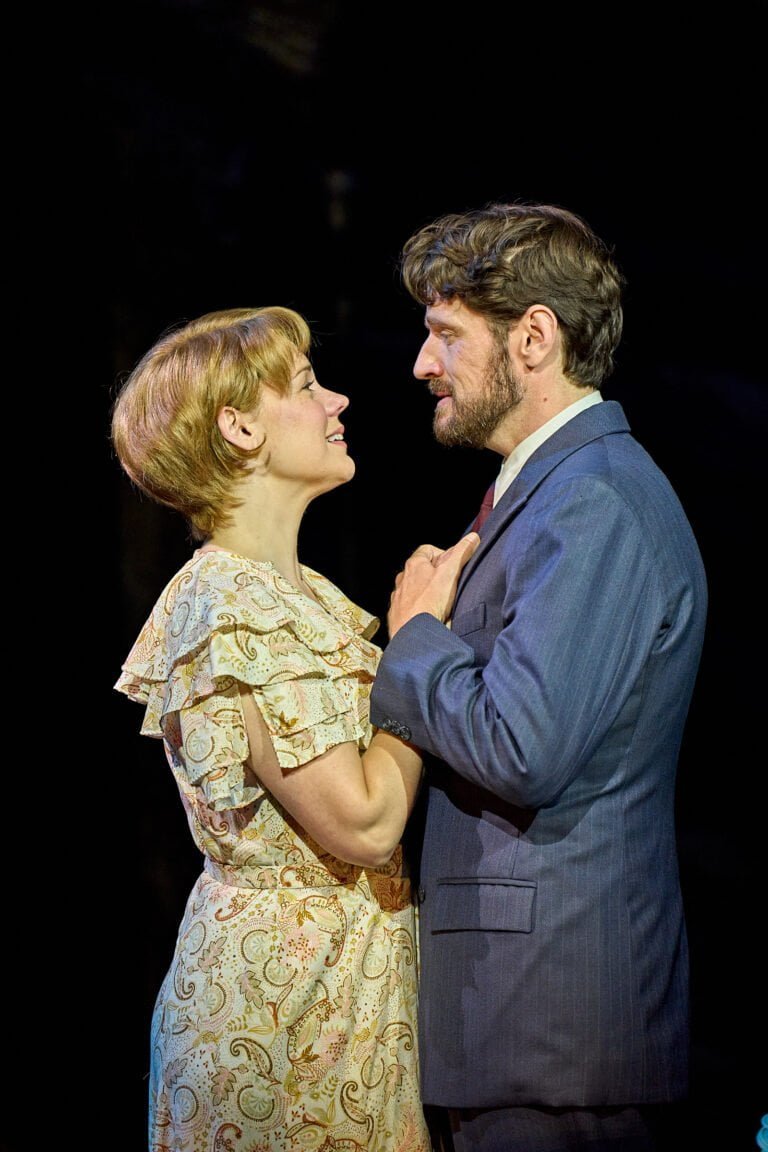 Act One
"Preludium"
"The Sound of Music"
"Maria" 
"My Favorite Things" 
"My Favorite Things" (reprise 1)
"Do-Re-Mi" 
"Sixteen Going on Seventeen" 
"The Lonely Goatherd"
"The Lonely Goatherd" (reprise) 
"How Can Love Survive" 
"The Sound of Music" (reprise) 
"So Long, Farewell" 
"Morning Hymn"
"Climb Ev'ry Mountain"
Act Two
"The Lonely Goatherd" (reprise 2)
"My Favorite Things" (reprise 2) 
"No Way to Stop It" 
"Something Good" 
"Gaudeamus Domino" 
"Maria" (reprise) 
"Confitemini Domino" 
"Sixteen Going on Seventeen" (reprise) 
"Do-Re-Mi" (reprise) 
"Edelweiss" 
"So Long, Farewell" (reprise) 
"Finale: "Climb Every Mountain"
The Sound of Music
Music by Richard Rodgers
Lyrics by Oscar Hammerstein II
Book by Howard Lindsay and Russel Crouse
Directed by  Adam Penford
Cast
Starring:
Emma Williams
Ako Mitchell
Annabelle Williams
Dylan Mason
Edward Harrison
Gina Beck
Janis Kelly
Julia J Nagle
Lauren Chia
Liam Marcellino
Minal Patel
Penelope Woodman
Rebecca Ridout
Rebekah Lowings
Tony Stansfield
Wendy Ferguson
William Ilkley
Hana Ichijo
Gabriel Payne
Lauren Conroy
Elliott Baker-Costello
Wendy Carr
Matt Pettifor
Children:
Jesamine-Bleu Gibbs
Barnaby Halliwell
Audrey Kattan
Arrabella McDermott
Mia Raggio
Erin Rushidi
Vishal Soni
Dylan Trigger
Felicity Walton
Sasha Watson-Lobo
Creatives
Director: Adam Penford

Choreographer: Lizzie Gee
Designer: Robert Jones
Musical Supervisor: Gareth Valentine
Lighting Designer: Joanna Town
Sound Designer: Paul Groothuis
Video: Hayley Egan
Musical Director: Matt Samer
Original Orchestrations: Robert Russell Bennett
Orchestrstral Adaptations: Larry Blank and Mark Cumberland
Information
Running Time:
Two hours 45 minutes with an interval
Booking until 3rd September  2023 

Theatre:
Chichester Festival Theatre
Oaklands Way
Chichester
PO19 6AP
Rail : Chichester
Telephone: 01243 781312
Website: cft.org.uk
Reviewed by Lizzie Loveridge at the
Chichester Festival Theatre at the press performance
on Monday 17th July 2023