Romantic Rock Time Travel
"Everything is in the future for you but you are in the past for me."
Clare
Unusually I had read Audrey Niffenegger's novel The Time Traveller's Wife twenty years ago and, yes, embarrassing though it is, I remember crying at the end.  I normally eschew any form of science fiction but the romance got to me! The book for the musical has been written by Lauren Gunderson, America's most produced playwright on several occasions this century.  I loved her The Book of Will about the First Folio.
Having just viewed the ITV X Series The Other Mrs Jordan about the bigamist, it did occur to me that Time Travel was as good an excuse for disappearances as being involved with the CIA as a spy.  The musical song writing team of Joss Stone and Dave Stewart formerly of the Eurhythmics  was an exciting one for me.  The stage curtain at the Apollo is a beautiful meadow scene but more of that later.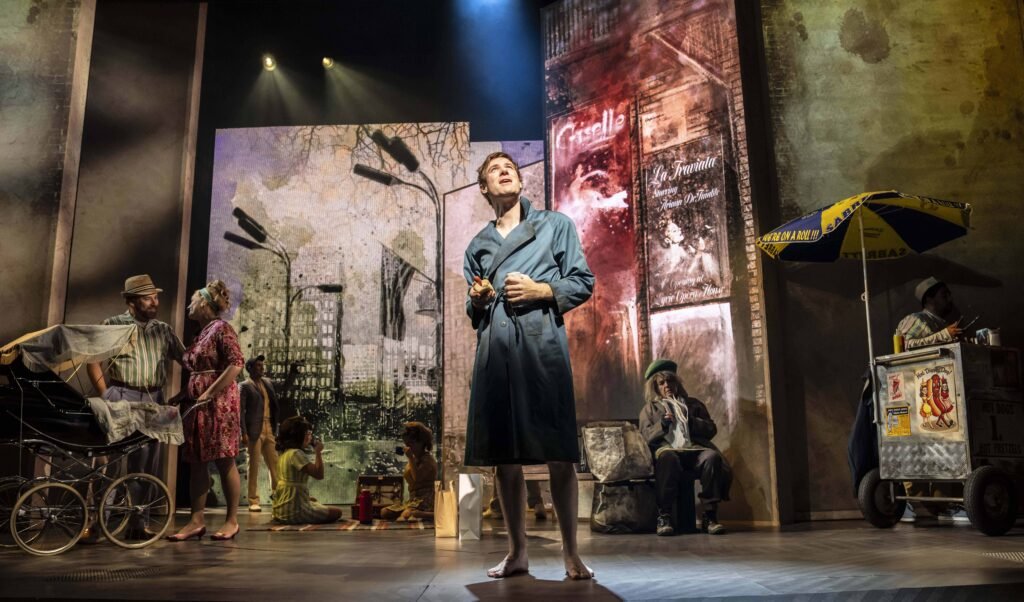 At a library in Chicago, 20 year old paper sculptor Clare (Joanna Woodward) goes to research an art work and meets 28 year old Henry (David Hunter), a librarian who keeps leaving piles of clothes around the vast library.  She sings "Masterpiece". On this occasion, in fact for all of the first act, Clare knows who he is but Henry doesn't know her.  I hope you will accept that Henry materialising, naked, in his thirties in the company of a six year old girl can be received by you in the innocence intended and not seen as grooming by a potential paedophile. 
Clare's first big number is the powerful "Masterpiece" where she talks about her 14 year history with Henry since she was six years old.  Henry's rock ballad "Will You Wait For Me" introduces his problem of having no control over when he disappears or reappears.  We don't know where he goes to, just where he remembers he has been.  A scene is set in the pretty country meadow where Claire is ten and Henry is 28.  A flash special effect sees Henry arrive to sing "Will You Wait For Me."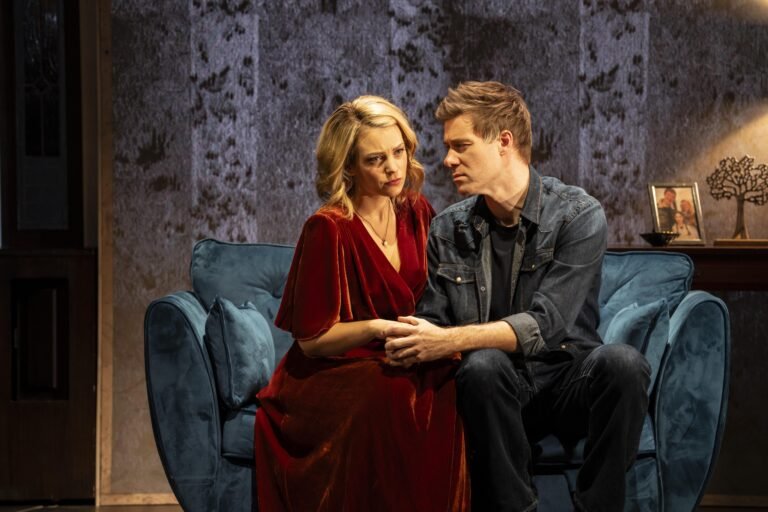 We go back to Henry's childhood where he is in a pram with his mother an opera singer (Sorelle Marsh) and his father (Ross Dawes).  It is during a car accident when he is six that Henry's genetic flaw is revealed as he is whisked off elsewhere. We see Clare at 16 in High School and meet her friend and admirer Gomez (Tim Mahendran) and her best friend Charisse (Hiba Elchikhe) and see a bad experience at the prom.
Act Two opens with Henry singing "Journeyman" probably the best number in the show with lovely monochrome design and projections as he sings about the transitioning time travel "like a tattoo of goosebumps".  Clare is older now and he secures their future.  She says, "There are very few perks of being married to a time traveller, but this is one of them."
They are married.  Clare has five tragic miscarriages and Henry takes a unilateral decision, acting without telling her.  The song "Lies" has been largely cut but Gomez and Henry sing "A Woman's Intuition" about getting found out.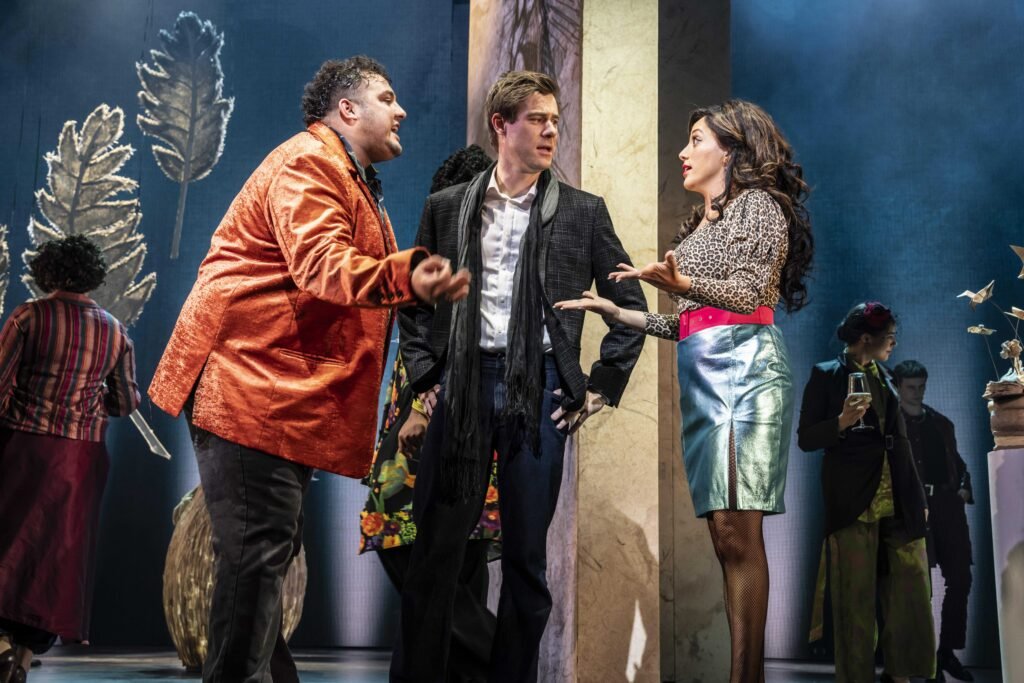 The performances are strong.  Joanna Woodward as Clare is a powerful singer and actor who is easy to identify with as she waits for Henry's reappearances.  I watched one episode of the HBO series which was cancelled after one series where Clare has a book with all the dates when she could expect to meet Henry again.  Henry had given her the dates. 
David Hunter as Henry is more reticent, maybe restrained by all those naked reappearances presenting the necessity to steal or find clothes! But his song "Journeyman" is a highlight of the show.  I liked too Gomez who is a quirky character and as Clarisse, Hiba Elchikhe has a beautiful voice.
Anna Fleishle's attractive flats vary the settings and provide Henry with somewhere to hide while the special effects create magical appearances and disappearances.  There is little choreography which is a shame. 
The musical of The Time Traveller's Wife has good music set to an original storyline in a reliable, if middle of the road, production.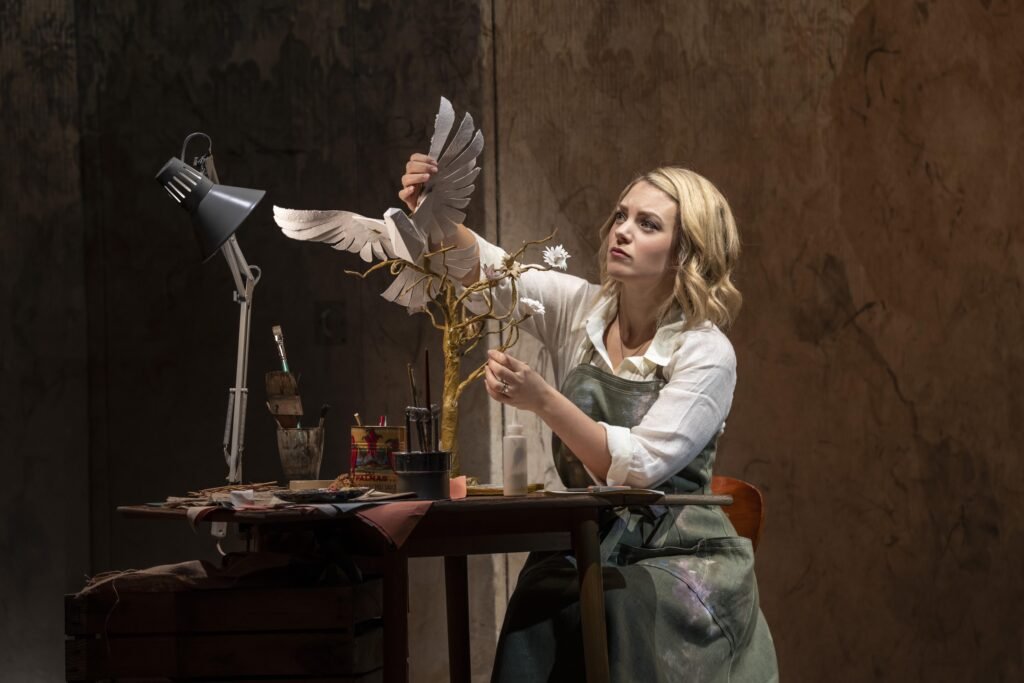 Act One
 Prologue  
 Masterpiece
Wait For Me
One Day
Damn Fool Love
I See Her
Who Are We?
Act Two
Entr'acte
Journeyman
This Time
A Woman's Intuition
I'm in Control
Make It New
On and On
Love Wins the Day  (Finale)
The Time Traveller's Wife
Book by Lauren Gunderson
Music by Dave Stewart
Lyrics by Joss Stone
Directed by Bill Buckhurst
Cast
Starring
David Hunter
Hiba Elchikhe
Joanna Woodward
Tim Mahendran
With
Alex Lodge
Alwyne Taylor
Billie Hardy
Bobby Windebank
Helena Pipe
Irfan Damani
Nathaniel Purnell
Lily Hannah
Poppy Pawson
Sorelle Marsh
Alexandra Doar
Daniel George-Wright
Serina Mathew
Ava Critchell
Holly-Jade Roberts
Ross Dawes,
Creatives
Director: Bill Buckhurst

Author: Bruce Joel Rubin, Audrey Niffenegger
Additional Music: Nick Finlow
Additional Lyrics:  Kait Kerrigan
Choreographer: Shelley Maxwell
Designer: Anna Fleischle
Musical Supervisor: Nick Finlow
Lighting Designer:  BRory Beaton
Sound Designer: Richard Brooker and Pete Malkin
Video/Projection Designer: Andrzej Goulding
Musical Director: Katharine Woolley
Information
Running Time:
Two hours 30 minutes with an interval
Booking until 30th March 2024 

Theatre:
Apollo Theatre
Shaftesbury Avenue
London W1D 7EZ
Box Office: 0330 333 4809
Tube: Piccadilly Circus
Reviewed by Lizzie Loveridge at the Apollo
on 1st November 2023