"Why, what an ass am I! "
Hamlet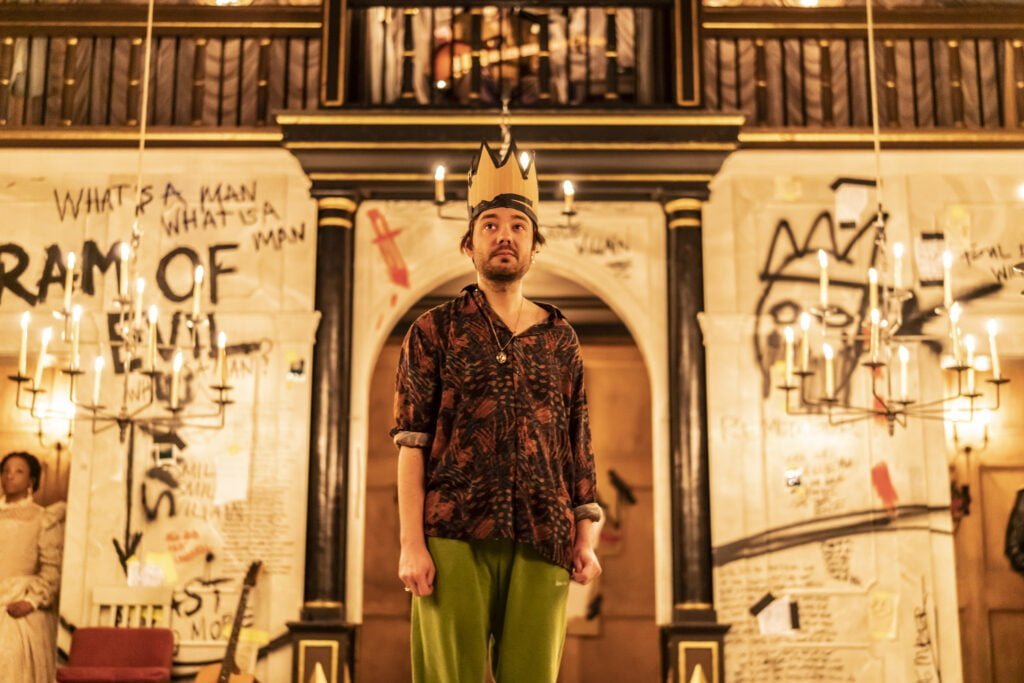 If you have ever seen Shit Faced Shakespeare where an unknown member of the cast will drink real alcohol while the rest remain sober, you would see a contemporary version of Shakespeare as a comedy designed to make you laugh.  In this version of Hamlet at the beautifully recreated Shakespearean theatre, the Sam Wanamaker Playhouse, the idea is to show Hamlet as a psychopathic, woman hating, selfish aristocrat who tells Fortinbras to fuck off and can handle a can of spray paint. 
I take another view.  I maintain than one should be able to fall in love with Hamlet, the prince who finds out that his mother has married his father's murderer and hesitates about what to do.  Hamlet should be likeable.  The best productions for me have been when Hamlet relaxes with his friends from university and is witty.  Stephen Dillane played the mad scene naked, a shock for the three nuns in the row in front accompanying their sixth form convent charges. 
George Fouracres as Hamlet born in the Black Country adopts the Wolverhampton accent not so very far away from Stratford upon Avon, the theory being that this is what Shakespeare himself would have sounded like.  Sir Peter Hall maintained that Elizabethan English is closest to that spoken today in the Outer Banks of North Carolina where 17th century emigrants lived in relative isolation. 
This is the first time Hamlet has been put on in the small indoor playhouse.  Twenty years ago the Globe were recreating original practices, often using male only actors with traditional props and costumes.  This version of Hamlet feels devised where actors under the influence of alcohol were invited to be irreverential and iconoclastic.  It doesn't feel directed by Sean Holmes whose Filter productions filtered the essential themes and created distillations of great plays.  I remember a Twelfth Night  when Sir Toby was drinking real ale to excess which of course was completely in character. 
Don't take anyone to see this who is studying the play for examinations.  They would do better seeing Heathers the Musical and picking out the Hamlet themes in that musical.  Songs from The Smiths are in this production.   
The ghost (Ciarán O'Brien doubling as Guildenstern) appears in bondage leather kilt and straps on his bare chest and in the bedroom scene seems to near drown his son in a show of torture.  He makes Claudius (Irfan Shamji) look kindly. 
John Lightbody is good as Polonius and I liked Nadi Kemp- Sayfi's gender switched Laertes.  A central pool dominates the stage, covered for the play within a play which thankfully gets rid of the tedious Pyrrhus stuff, and instead substitutes the balcony scene from Romeo and Juliet.  Ophelia (Rachel Hannah Clarke) of course has somewhere to drown and as the characters die in the final scene, they sit in the pool which took on a fully clothed jacuzzi feel.  There is no sexual chemistry between Ophelia and Hamlet. 
Gertrude (Polly Frame) hangs on Claudius and before the Japanese stick duel has had too much to drink.  See Trevor Nunn and Ben Whishaw's Hamlet in 2004 for the significance of "Gertrude.  Do not drink!" 
The graveyard scene is a sprawling monologue from resident guitarist Ed Gaughan on the subject of ITV's quiz Programme The Chase.  I really disliked this production of Hamlet as much as I really liked Twelfth Night from some of the same cast and director. 
Hamlet

Adapted from the play written by William Shakespeare
Directed by Sean Holmes
Cast
Starring:
George Fouracres
Rachel Hannah Clarke
Ciaran O'Brien
Irfan Shamji
Creatives
Director: Sean Holmes
Costumes: Janet Spriggs
Fight Director: Philip d'Orléans
Movement: Glynn McDonald
Composer and Musical Director: 
Ed Gaughan
Information
Running Time: Three Hours 15 minutes
with two intervals
Booking to 9th April 2022
Theatre: 
Sam Wanamaker Playhouse
Shakespeare's Globe
New Globe Walk
Bankside
London SE1 9DT
Phone: 020 7401 9919
Website: Shakespeare's Globe
Rail/Tube: London Bridge
Reviewed by Lizzie Loveridge
at the Sam Wanamaker  
on 3rd February  2022