Sucker Punch is a knockout!
"When Chicken tie up Cockroach want explanation."
Squid
Jamaican saying about the pecking order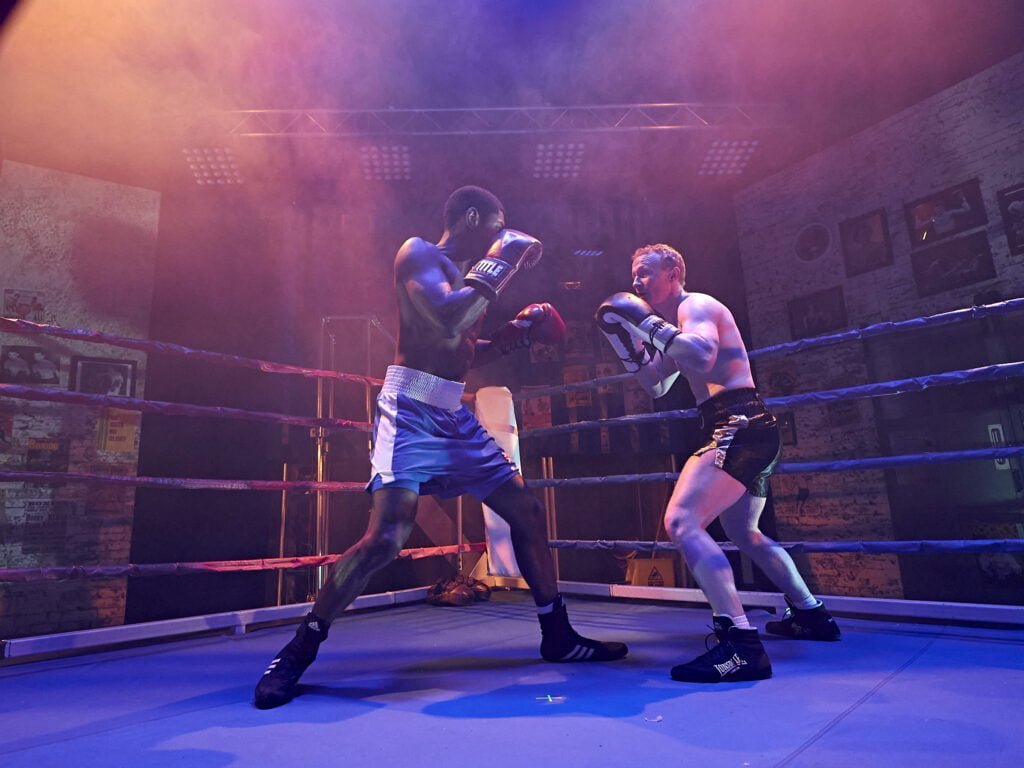 Roy Williams' seminal play Sucker Punch has become a Modern Classic.  This superb play about young black boxers launched the acting career of Hollywood star Daniel Kaluuya when he was just 21 and he played Leon at the Royal Court Theatre.  Actors Daniel Kaluuya, Anthony Welsh and Jason Maza were trained for the part by the late British boxer Errol Christie.  The commitment to boxing training shows in this production at the Queen's Hornchurch where Leon (Shem Hamilton) and even his father Squid (Wayne Rollins) can skip with a rope changing feet like the professionals.  The punch bags are not just a part of the set but in real use.  
The play is set in the 1980s in a dilapidated London gym owned by Charlie (Liam Smith) where he trains young boxers, Leon, Tommy (John Rogers) and Troy (Christian Alifoe).  Charlie has a teenage daughter Becky (Poppy Winter) who tries to get Charlie to pay attention to the business accounting figures but he is dependent on developing a champion to pay his debts.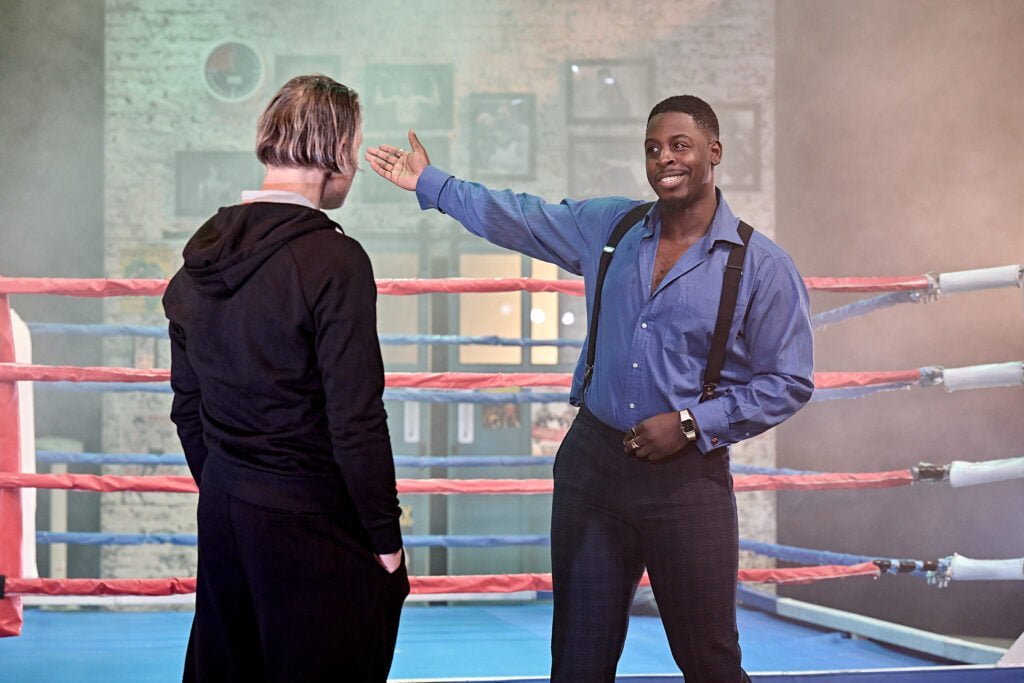 Troy is lippy and rebellious but Leon is more law abiding.  In the 1980s Brixton riots, Troy gets into trouble and is caught by the police but Leon leaves him and escapes.  Memory of this abandonment will have repercussions for the future, and Troy leaves Charlie's gym as a consequence.  
In Sucker Punch we are looking at the opportunities for advancement open to young black men through sport, and in this case boxing, before women boxers were recognised at the Olympics.  We see how the sport is structured with a few powerful boxing managers and promoters and how their sign ups are exploited.  Charlie is small time compared to this play's Ray (Ray Strasser-King) who is American and based on Don King, known for his fur coats.  Ray steps over the ring ropes not through them like everyone else.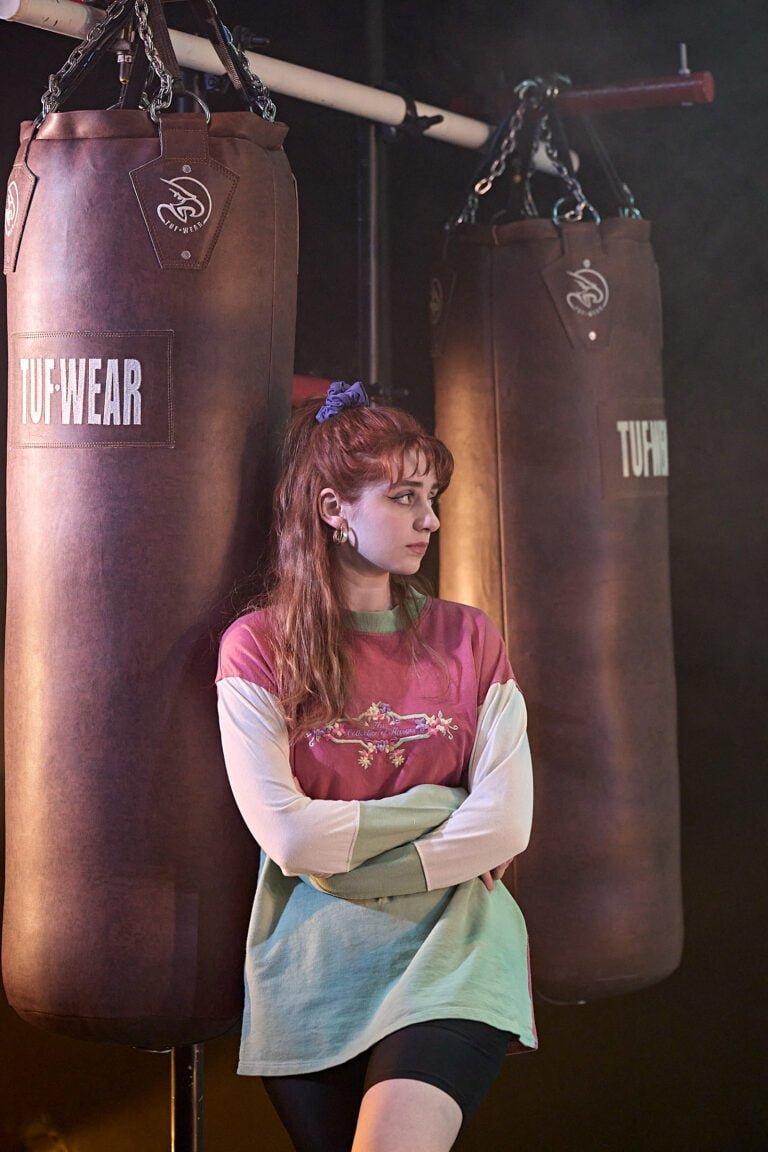 There is conflict and racism when Leon starts getting close to Charlie's daughter Becky and Charlie gives Leon a clear choice.  Charlie is more of a father to Leon than Squid who is always broke, womanising and drinking.  There is excellent characterisation with Wayne Rollins' feckless but likeable Squid and I was impressed by Liam Smith's complete believability as the gym owner trying to hang onto the talented boxers. Charlie has problems with alcohol but his determined personality and growing relationship with Leon is the glue that grips us to the plot. 
Shem Hamilton shows great promise as an actor and the scenes with Christian Alifoe enliven the play.  Nathan Powell's production runs without an interval. 
Sandra Falase's design includes a boxing ring and there is exciting sound and pink, red and blue lighting from Josh Harriette.  Three people are involved in creating the fights and movement including Gary Cooke as the boxing coach.
The play culminates in an exciting boxing match with plenty of tension and the sting of pathos.  This play is on tour until 24th June. 
Don't miss it!
Oh and I would invite Marnie Swindles the winner of The Apprentice 2023 to opening nights!
For the review of Sucker Punch at the Royal Court in 2010. GO HERE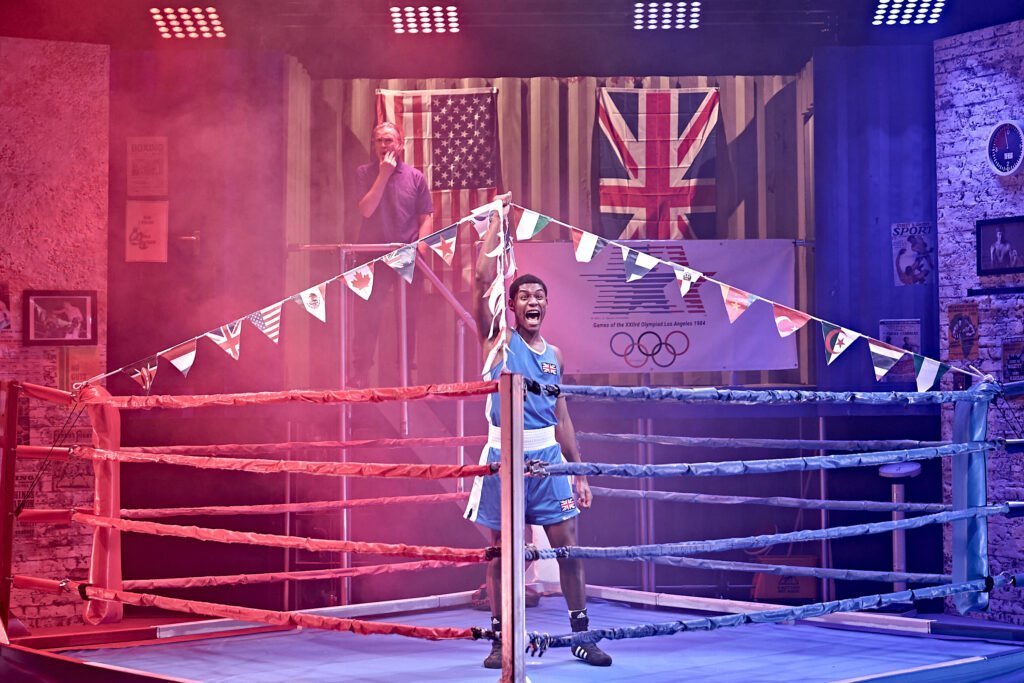 Sucker Punch

Written by Roy Williams
Directed by Nathan Powell
Cast
Starring:
Liam Smith
Wayne Rollins
Poppy Winter
Christian Alifoe
Shem Hamilton
John Rogers
Ray Strasser-King
Creatives
Director: Nathan Powell
Designer: Sandra Falase
Lighting Designer: Josie Harriette
Sound Designer: Duramaney Kamara
Fight director: Enric Ortuño
Movement Director: Asha Jennings-Grant
Boxing Coach: Gary Cooke
Information
Running Time: Two hours 15
minutes with an interval
Booking at Queen's
Hornchurch until  15th April 2023
then on tour to 24th June 2023
Theatre: 
Queen's Theatre
Billet Lane
Hornchurch
RM11 1QT.
Box Office enquiries:
boxoffice@queens-theatre.co.uk
Rail : Emerson Park
Telephone: 01708 443333
Reviewed by Lizzie Loveridge at the
Queen's Theatre, Hornchurch on 1st April 2023