The Secret Life of Bees Sets Up a New Buzz!
"Some folk are born on the wrong side of right." 
Rosaleen
"Sometimes you get tired of running against the wind."
August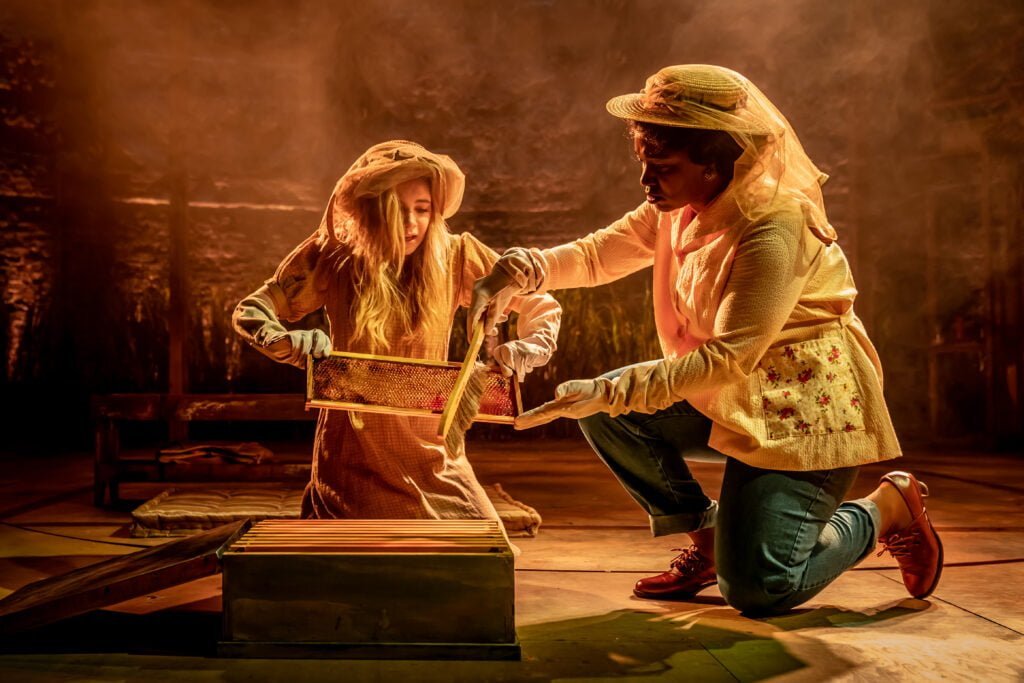 When you look at the creative team for the musical version of The Secret Life of Bees, you cannot fail to be impressed.  Lynn Nottage, the playwright of Ruined and Sweat and who has authored MJ the new Michael Jackson musical has written the book.  It is adapted from Sue Monk Kidd's best selling novel about young women in South Carolina in 1964.  Duncan Sheik who composed the music for Spring Awakening wrote the music.  Lyricist Susan Birkenhead has received Tony nominations for her lyrics for Broadway musicals.  The director is young, American and upcoming, Whitney White.  In the cast are the original Olivier winning Matilda, Eleanor Worthington-Cox and Rachel John who was London's original Angelica in Hamilton.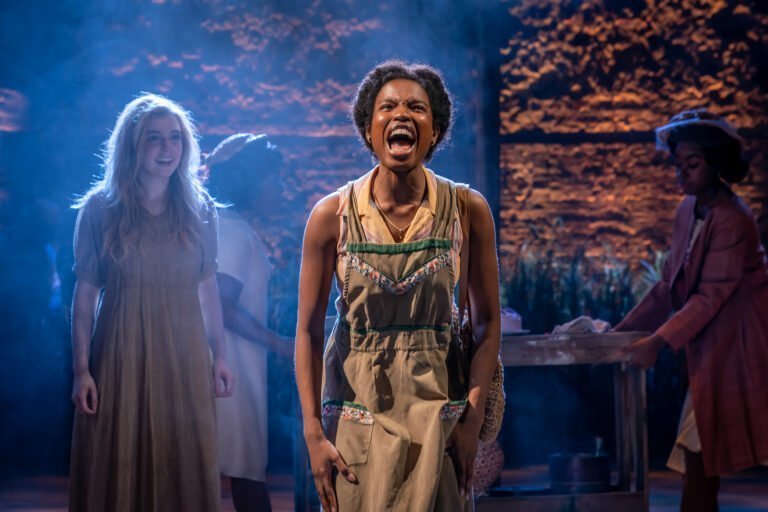 The story opens in South Carolina where Lily (Eleanor Worthington-Cox) lives in a peach growing county with her abusive father T-Ray (Mark Meadows) and is friendly with a black girl Rosaleen (Abiona Omonua). On her birthday, Lily is made by her cruel father to kneel for hours on raw grits which cut into her knees. Rosaleen, encouraged by President Johnson's encouragement for African Americans to vote has decided to travel to register but is badly beaten by two white racists.
The two girls decide to run away. Lily has been told by her father that she killed her mother but she has a postcard from her mother with a picture of the statue carving of a Black Madonna from Tiburon, South Carolina. It is to Tiburon, another peach growing area, that they hitch lifts. When they get there in a shop they find a jar of honey with the same picture of the Black Madonna. All the hairs stood up on my neck as Lily makes this connection with the last legacy from her mother. They ask who makes the honey and are directed to the home of the Boatwright sisters, May (Danielle Fiamanya), June (Ava Brennan) and August (Rachel John).
Rosaleen and Lily offer to work in return for bed and board. While Rosaleen cleans house, August the Queen Bee of the Boatwright Sisters, teaches Lily the art of bee keeping. These scenes are lit red and full of excitement at this welcoming place. Some are a bit suspicious of the white girl Lily but August is struck by her resemblance to Deborah Owens.
Lily makes friends with Zachary (Noah Thomas) who works with the bees. We learn about the Boatwright sisters, May who lost her twin April and who suffers from depression, and June who speaks roughly to Lily and whom the history teacher Neil (Tarinn Calendar) often proposes marriage to.
The title song, "The Secret Life of Bees" is a triumph. Duncan Sheik's score is varied with influences from soul and gospel choirs, blue grass and romantic ballads for Lily and Zach. The First Act ends with August's rousing "Our Lady of Chains" where she affirms "She'll be a slave no more". In the 1960s America is witnessing the Civil Rights Movement and this musical refers to the murder by the Klu Klux Klan of three Civil Rights Workers in Mississippi.
In Act Two there is excitement as film star Jack Palance visits Tiburon with his African American girlfriend. There are happy revelations about Lily's mother. Rosaleen will get to vote and the Boatwrights will protect Lily from police looking for her and her dreadful father. There is a lovely set by Soutra Gilmour with cornfields in the background and jars of honey, hives and boxes of peaches stored on wooden benches. The choreography by Shelley Maxwell is limited and natural in real situations where the women dance in celebration but this show is outstanding for beautiful tunes sung by brilliant voices from the whole cast, and the eight piece band.
The Secret Life of Bees is a charming piece, beyond the cruelty, as soft and as sweet as a jar of honey. Let us hope it will find a further life.
Act One
River of Melting Sun 
The Girl Who Killed Her Mother 
Sign My Name 
Better Than This 
Tek A Hol A My Soul 
Tek A Hol A My Soul (Reprise)
The Secret Life of Bees 
Fifty-Five Fairline 
All About You 
Our Lady of Chains 
Act Two
River of Melting Sun (Reprise) 
Who Knew? 
What Do You Love? 
Trouble on the House 
What Do You Love? (Reprise) 
Hold This House Together 
Frogs and Fireflies 
All You Need to Know
What's Never Been 
Marry Me 
The Secret Life of Bees (Reprise) 
The Secret Life of Bees
Music by Duncan Sheik
Book by Lynn Nottage
Original Novel by Sue Monk Kidd
Lyrics by Susan Birkenhead
Directed by Whitney White
Cast
Starring:
Abiona Omonua
Ava Brennan
Danielle Fiamanya
Eleanor House
Eleanor Worthington-Cox
Madeline Charlemagne
Mark Meadows
Rachel John
Richard James-Neale
Shekinah Mcfarlane
Tarinn Callender
Noah Thomas
Daniel Krikler
Chrystine Symone
Marcellus Whyte
Creatives
Director: Whitney White
Set Designer: Soutra Gilmour
Musical Director: Toby Higgins
Choreographer: Shelley Maxwell
Musical Supervisor: Will Stewart
Lighting Designer:  Neil Austin
Costume Designer:  Qween Jean
Sound Designer: Simon Baker
Orchestrations: John Clancy, Duncan Sheik
Fight Director: Kate Waters
Information
Running Time:
Two hours 40 minutes with an interval
Booking until 27th May 2023
Theatre:
Almeida Theatre 
Almeida Street
London N1 1TA
Tube: The Angel
Reviewed by Lizzie Loveridge 
at the Almeida
at the evening performance 
on 20th April 2023