Fine Lyrics About Depression
"I don't need a life that's normal—
That's way too far away. 
But something . . . next to normal
Would be okay. "

Natalie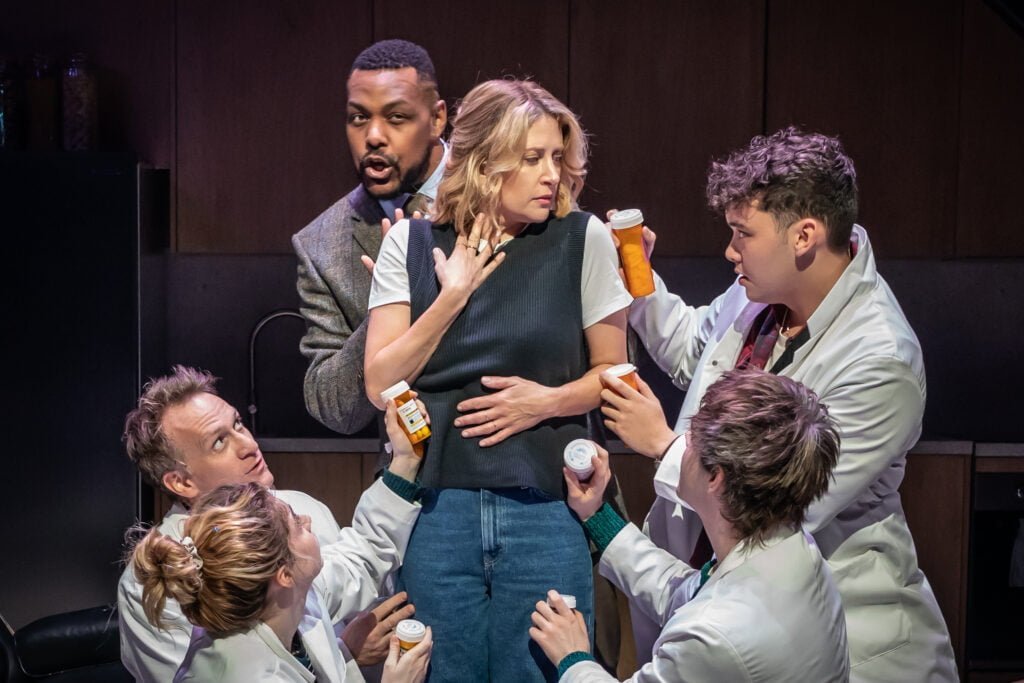 Isn't it a joy to find a musical about real life feelings instead of all those with fairy tale endings?  But what if those feelings are about self harm, loss of a baby, major depression and suicide?  Whatever next?  Lucy Letby the Musical?  Maybe that is why Next to Normal has taken so long to take the trip across the Atlantic since opening in New York in 2008/9?
I blame Dear Evan Hansen for the dive of musicals into bullying and teenage depression. But two of my absolute favourite musicals are about the darker side of things – Parade with its lynching and Come From Away set in the dark days of 9/11.  
So how was Next to Normal?  Really well sang by Caissie Levy, a Broadway star, Trevor Dion Nicholas a star here in London was well as the USA with Eleanor Worthington-Cox who has been headlining since the opening of Matilda in 2011.  I was most excited about the discovery of Jack Wolfe with his beautiful voice and intonation.  
The family are Diana (Caissie Levy) and Dan (Jamie Parker) a middle class couple who have been married about eighteen years.  They married very young because Diana was pregnant. They have a musically talented daughter Natalie (Eleanor Worthington-Cox), 16 and at high school.  We also see their 17 year old son Gabriel (Jack Wolfe) most often with his mother.  
I don't know how to review without the first major spoiler so if you don't want to know, stop reading here.  Diana is under a psychotherapist Dr Fine (Trevor Dion Nicholas) and on numerous amounts of medication which she feels do not help her.  Her husband Dan is as supportive as he can be but he cannot cope with his wife's depression and suicidal thoughts, he has trouble communicating and is on the outside. 
Diana tries a new strategy washing the pills down the sink. She has been treated for 16 years for a bi-polar disorder and the backdrop to the stage features videos of tumbling pills.  On no pills, Diana is initially energised and hyperactive and is baking a cake for Gabe's 18th birthday.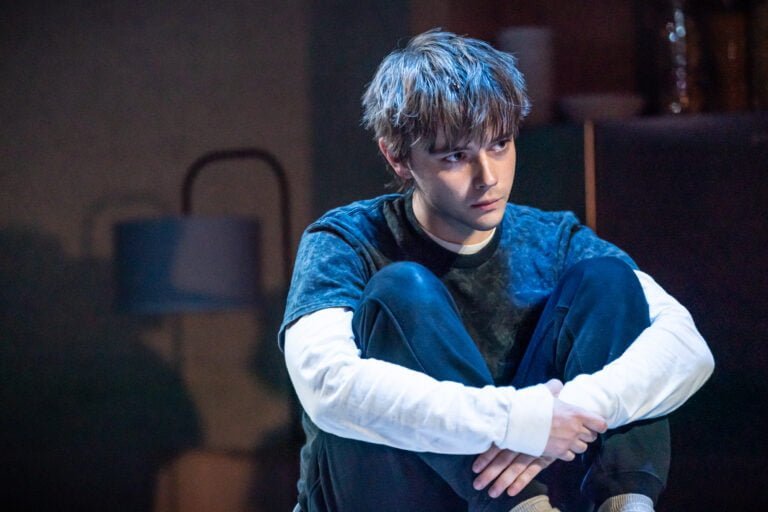 Spoiler Alert.  This birthday party falls apart as Natalie questions why her dead brother is receiving all this attention on what would have been his coming of age. The music turns to heavy metal rock as her husband says that Diana should go back to a different doctor for more treatment. 
The new doctor, Dr Madden (Trevor Dion Nicholas) has an unusual approach talking in a normal voice, then close up to her face shouting at her like a shocking explosion.  He prescribes electro-convulsive therapy for her with One Flew Over the Cuckoo's Nest recollections.  
Natalie is a talented composer but despairs that her mother never attends her concerts. Natalie confides in her school friend Henry (Jack Ofrecio) about not being as loved as her dead brother.  Flashbacks take us back to Dan and Diana getting married because she is pregnant and we wonder whether that history will repeat itself with Natalie and Henry.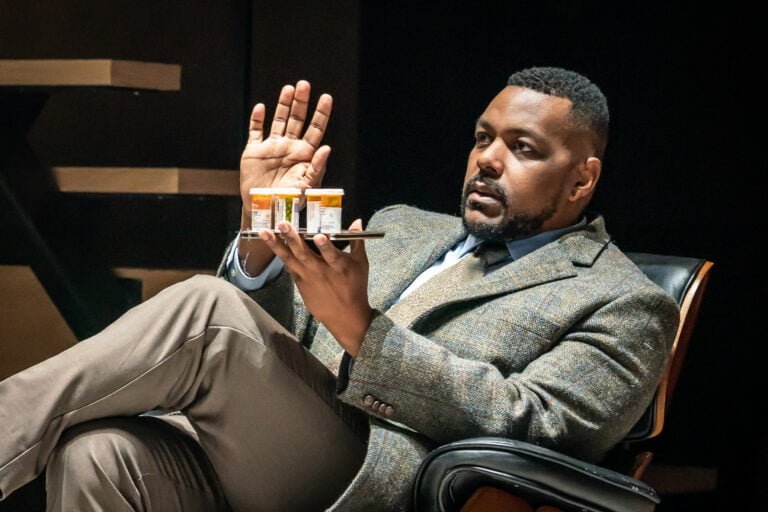 Brian Yorkey's lyrics are outstanding. Here is Natalie's take on her dysfunctional family.
"When they haul her off and hook her up
To try to fry her brain out. . .
When you do the shit you have to do
To drain the stupid pain out. . .
When you're trying to disguise it all,
While your Father just denies it all,
And let's you sell him any sort of fable—
You're growing up unstable."
I really liked the music, the lyrics, the top quality performances but I have an issue with the storyline. Diana loses baby Gabriel at eight months old due to an intestinal obstruction. She spends the next 17 plus years in a depression diagnosed as bi-polar. As a mother myself, I do not understand how losing her maternal feelings for her son cause her to be so unresponsive to her daughter's needs and for such a long time.
As the audience we are won over by Jack Wolfe's wonderful singing voice and haunting presence but this doesn't mean we can ignore the hurt that Natalie suffers all her young life.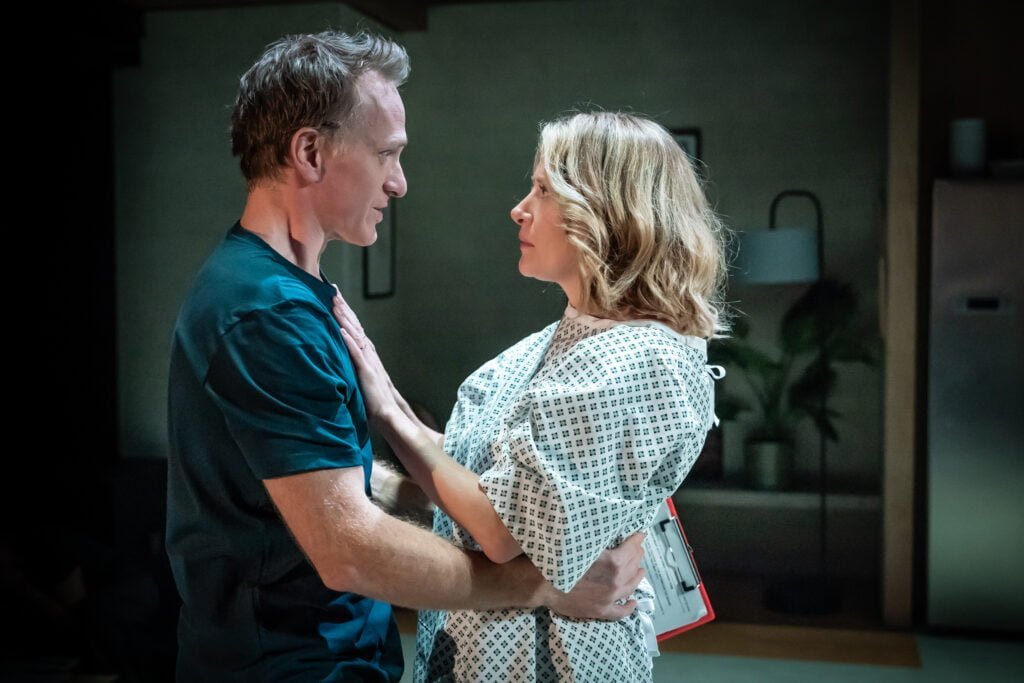 Act One
"Prelude (Light)"
"Just Another Day"
"Everything Else"
"Who's Crazy" / "My Psychopharmacologist and I" 
"Perfect for You" 
"I Miss the Mountains" 
"It's Gonna Be Good" 
"He's Not Here" 
"You Don't Know" 
"I Am the One"
"Superboy and the Invisible Girl" 
"I'm Alive" 
"Make Up Your Mind" / "Catch Me I'm Falling"  
"I Dreamed a Dance"
"There's a World"
"I've Been"
"Didn't I See This Movie?" 
"A Light in the Dark" 
Act Two
"Wish I Were Here" 
"Song of Forgetting" 
"Hey #1" 
"Seconds and Years" 
"Better Than Before" 
"Aftershocks" 
"Hey #2" 
"You Don't Know" (Reprise) 
"How Could I Ever Forget?" 
"It's Gonna Be Good" (Reprise) 
"Why Stay?" / "A Promise" 
"I'm Alive" (Reprise)
"The Break" 
"Make Up Your Mind" / "Catch Me I'm Falling" (Reprise) 
"Maybe (Next to Normal)" 
"Hey #3" / "Perfect for You" (Reprise) 
"So Anyway" 
"I Am the One" (Reprise) 
"Light"
Next to Normal
Music by Tom Kitt
Book and Lyrics by Brian Yorkey
Directed by Michael Longhurst
Cast
Starring:
Jamie Parker
Caissie Levy
Eleanor Worthington-Cox
Jack Wolfe
Trevor Dion Nicholas
Jack Ofrecio
With:
Carolyn Maitland
Ben Morris
Joshua Garnon
Lucy Munden
Creatives
Director: Michael Longhurst
Designer: Chloe Lamford

Lighting Designer: Lee Curran

Sound Designer: Tony Gayle
Musical Supervisor: Nigel Lillley
Movement and Choreography: Ann Yee
Orchestrations: Michael Starobin and Tom Kitt
Video Design:  Tal Rosner
Musical Director: Nick Bairstow
Information
Running Time: Two hours and 30 minutes with an interval
Booking to 7th October 2023
Address:
Donmar Warehouse
Earlham Street
Covent Garden
London WC2H 9LX
Tube : Covent Garden
Website: donmarwarehouse.com
Reviewed by Lizzie Loveridge
at the Donmar Warehouse
 on 23rd August 2023