Bush Champions : Red Pitch
"We're not rich man; just doing alright."
Joey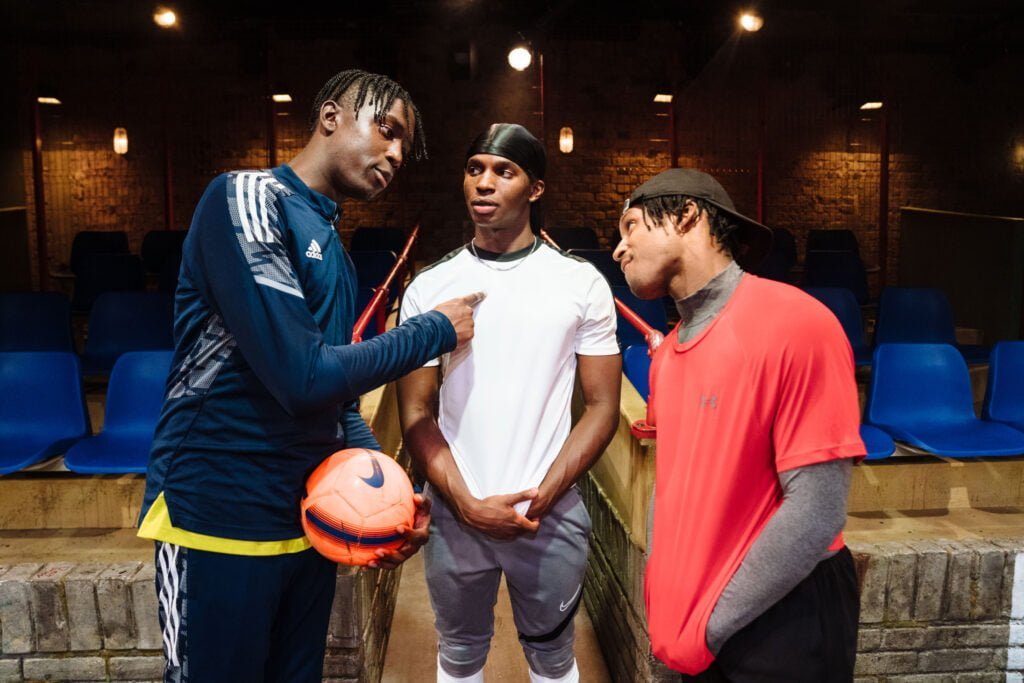 Tyrell Williams' debut play has won many awards for its incisive new writing, about the issues that affect young people in an area of London where social housing is largely being replaced with flats to be sold on the private market.  It is also full of three characters that you can relate to, care about and laugh with, in a high energy production set on a concrete football pitch.  
Three sixteen year olds, who live on the estate, are facing demolition of the blocks where they live but they still meet at the caged football pitch to practise the beautiful game.  It is called Red Pitch and over the years they have rules which apply like being on time for practice. Some families are holding out against the redevelopment.  
Red Pitch is probably set on the Aylesbury Estate in Walworth where in 2001 the residents voted by over 70% for the estate to be renovated rather than demolished and redeveloped.  The Council ignored them. There are still 30 families in residence after rehousing by Southwark Council started in 2008.  Of the 4,200 new flats only 1,600 will be for social rent.  That is the theme of gentrification running through Red Pitch.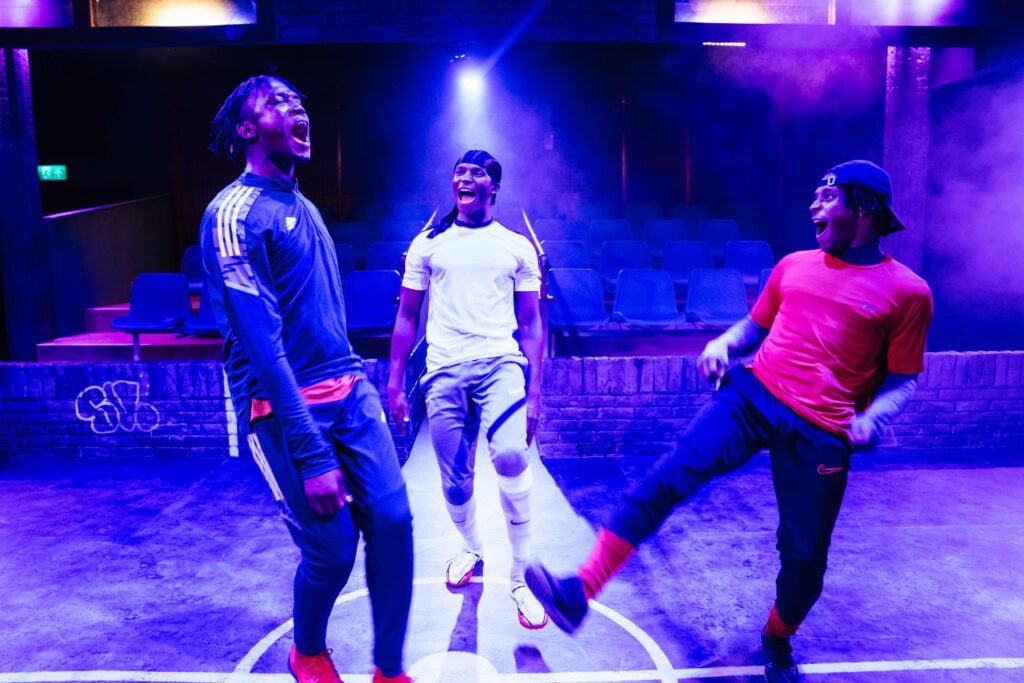 Businesses are closing down.  Morley's Chicken Restaurant has already gone and Esme's Dry Cleaners is about to close.  Joey (Emeka Sesay) will walk to Camberwell to buy Morley's spiced chicken and Omz (Francis Lovehall) will pretend to take a chip and instead pinch one of his chicken wings.  The third footballer is Bilal (Keder Williams-Stirling).  These three are full of banter and sporting rivalry as they aspire to being professional footballers and a trial is coming up being held by the west London club Queens Park Rangers.  
Omz is weighed down by family commitments in looking after his elderly grandfather and his younger siblings.  He is often late for football. Bilal has realistic ideas about the competitive world they are aiming for and tries to coach Omz whose best subject is Art and Design.  It is Joey who comes from a better off family and whose back up plan is to do Business Law. Bilal's subject is Maths. Each of those school subjects are a clue to their personalities.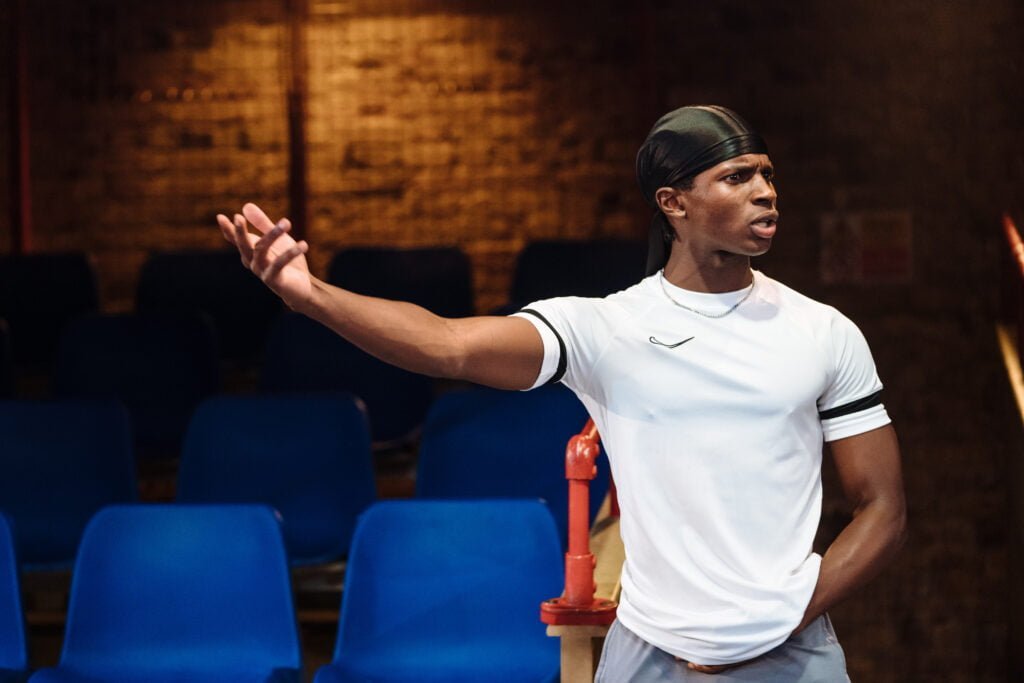 As well as the story of these gripping characters there is physical action, football training moves and tackles, and even a terrifying fight choreographed by Kevin McCurdy. Dickson Mbi is confidently in charge of movement and Daniel Bailey is the surefooted director.  Amelia Jane Hankin's set has the audience on all four sides with a low wall graffitied and with a memorable blood stain from a past fight and the concrete with painted lines of the pitch.  There are many laugh out loud moments as the boys rib each other with quick wit. 
The Bush Theatre's production has everything. A soundscape of the demolition of the estate in the background which reacts to tension between the footballers.  The opening scene has balletic moves and there are dramatic lighting shifts from Ali Hunter.  In just 90 minutes every cast member has made an impression and given an energetic performance whilst being true to character.  They are a tangible slice of the community being displaced in Walworth. 
This is the second showing for the Bush of Red Pitch since it opened in February 2022 and under Lynette Linton's direction the Bush Theatre's new programme will be showing more hot tickets as they tap into the excitement of theatre and promote new writing.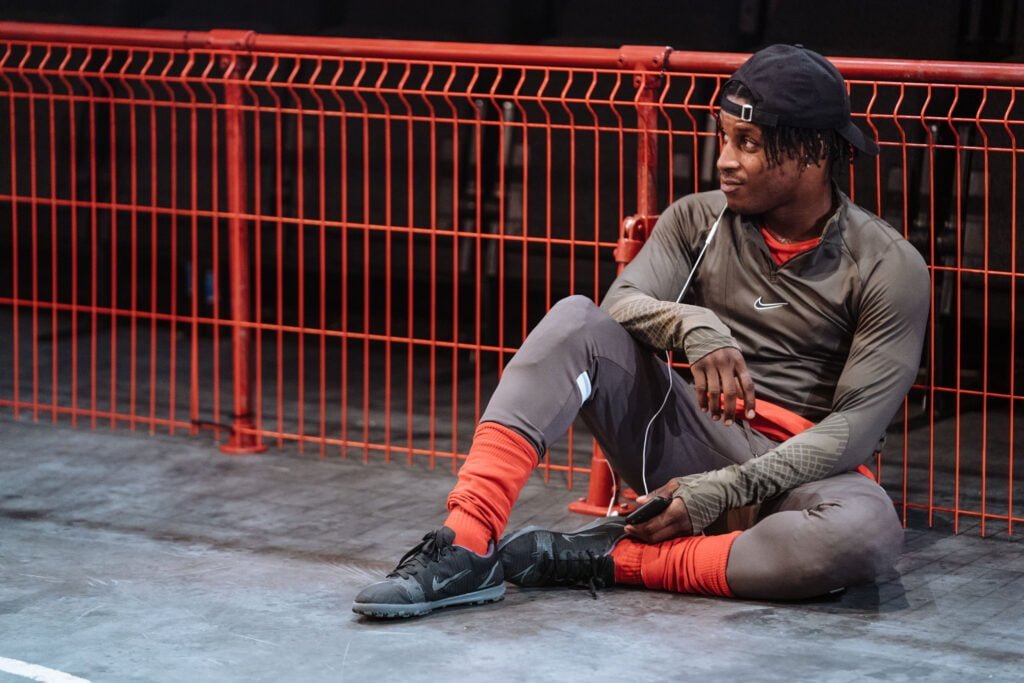 Red Pitch

Written by Tyrell Williams
Directed by Daniel Bailey
Cast
Starring:
Francis Lovehall
Kedar Williams-Stirling
Emeka Sesay
Creatives
Director: Daniel Bailey
Designer: Amelia Jane Hankin
Lighting Designer: Ali Hunter
Movement Director: Dickson Mbi
Fight Director: Kevin McCurdy
Sound Designer: Khalil Madovy
Information
Running Time: One hour 30 minutes without an interval
Booking to 30th September 2023
Theatre: 
The Bush Theatre
Website: 
bushtheatre.co.uk
Tube Shepherd's Bush Market
Reviewed by Lizzie Loveridge 
at the Bush Theatre
on 11th September 2023