"They give themselves away the minute they open their mouths."
Higgins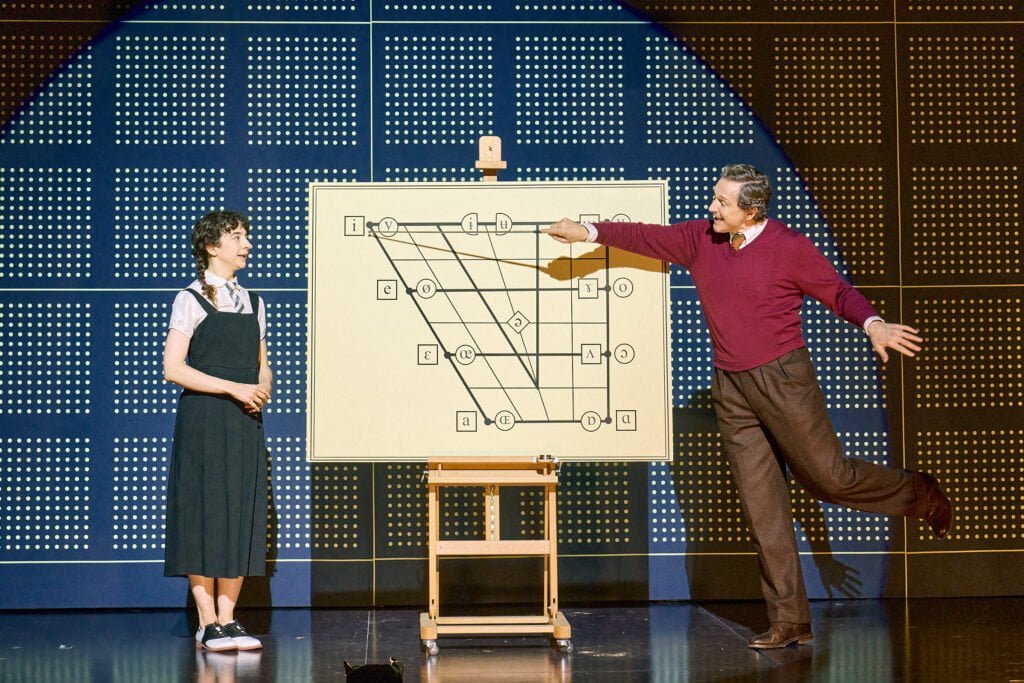 It was my most anticipated play of this Autumn season, the one I wanted to see most. Why? Because it starred Bertie Carvel, my choice in nominating Best Actor for the Critics Circle Awards for his portrayal of Donald Trump in The 47th at the Old Vic in 2022. Carvel is the most splendidly ambivalent actor.
I loved his portrayal of Leo Frank in Parade at the Donmar Warehouse in 2007, 92 years after the Jewish Pencil Factory Manager had been taken from prison and lynched by a Southern mob in Georgia. We all remember his incarnation of the ghastly Miss Trunchbull in Matilda the Musical in 2011 with her enormous bossom and ribbon twirling Olympic event. In 2016 he played Rupert Murdoch in James Graham's play Ink. And of course on television in 2015 he was the unfaithful husband Simon Foster, in Mike Bartlett's serial Doctor Foster, and coupled with Jodie Comer as his mistress.
Carvel's Henry Higgins is paired with a celebrated female actor Patsy Ferran as Eliza Doolittle. Ferran's charm has largely escaped me but she has won major critical acclaim. The choice of director Richard Jones is one who has never been short of controversy in the reception of his productions
I discussed the discrepancy between G Bernard Shaw's wish for the ending of his 1913 play Pygmalion and when it was made into the musical My Fair Lady by Lerner and Lowe in my review of a recent My Fair Lady at the Coliseum. Jones has clearly obeyed Shaw's wishes and of course the independence of a woman away from her controlling mentor is one which will win approbation in the current political climate.
Jones and Carvel's extra ace is to make Higgins the most unpleasant, anally retentive instructor. Gone are Carvel's handsome good looks and instead in many scenes his tongue lolls out of his mouth making this his most memorable facial expression. His Higgins is distinctly odd, slightly effete and of course insuffrably priggish. Michael Gould as the fellow orthoepist, philologist and professor of Foreign languages is nicer to Eliza but he doesn't take Higgins to task over his treatment of Eliza. Higgin's housekeeper Mrs Pearce (Penny Layden) tries to protect the girl.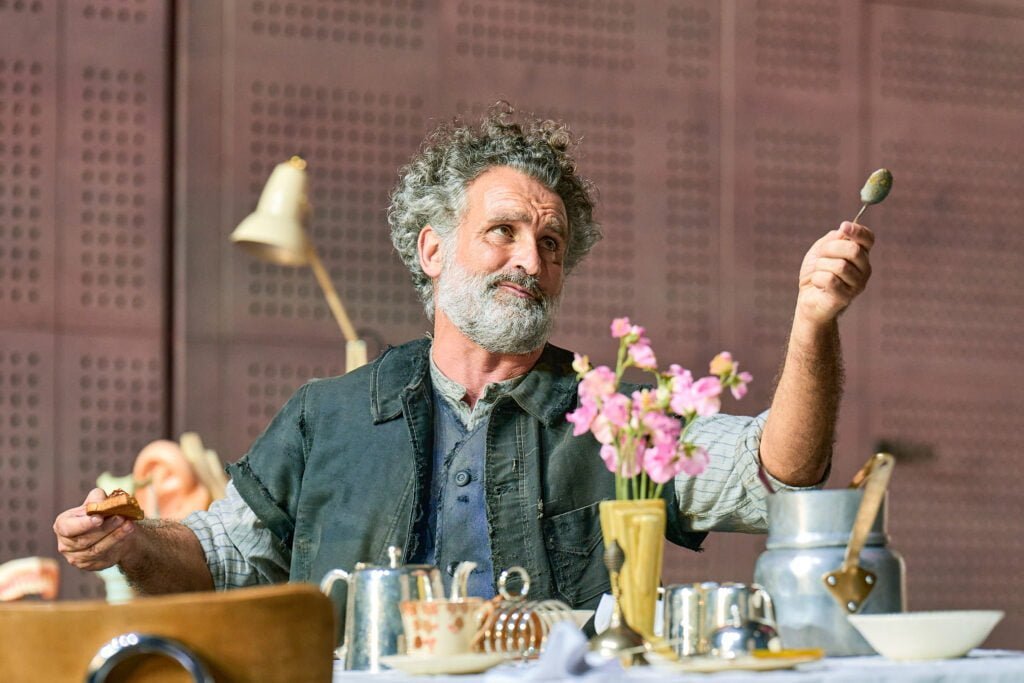 Jones' production is like two distinct halves as Act One sees a hyperactive Eliza flying all over the place with her outrageous vowels and grammar. Higgins describes her as "deliciously low and dirty". The refreshing arrival of John Marquez as Eliza's father Alfred Doolittle explains how the apple doesn't fall far from the tree. His describing himself as one of the "undeserving poor" has interesting consequences. Eliza's scene with the Earls Court residents (2023 laughter) the Eynsford-Hills where she reverts to her Cockney expressions but in her newly acquired accent is amusing.
By Act Two she is a calm and dignified Eliza ready to go to the ball with a gauze frock and magnificent diamonds. Maybe they really were hired by the theatre as they do not appear in all of the production photography? I have some doubts about Laing's costume choices. Higgins goes the ball in his day wear of woollen jumper and tweed jacket, surely unacceptable.  Eliza is dressed in a schoolgirl's gymslip which might be interpreted as a choice for a more sexual alliance but it is as if Higgins wouldn't notice!
Stewart Laing's sets are dominated by the mathematical, walls made of pinboard, steel chrome 1930s furniture and with numerous desks furnished with Anglepoise lamps in Higgin's house. In Covent Garden we have the famous Grecian pillars of the original Flower Market.
I much preferred the Old Vic production of Pygmalion some years back with Tim Pigott-Smith as an overgrown schoolboy and the ravishing Michelle Dotrice whose hats were beautiful.  Here Eliza's ballgown could be an old gauze curtain.  However Shaw's paternalistic message is enduring,   "The difference between a lady and a flower girl is not how she behaves, but how she is treated."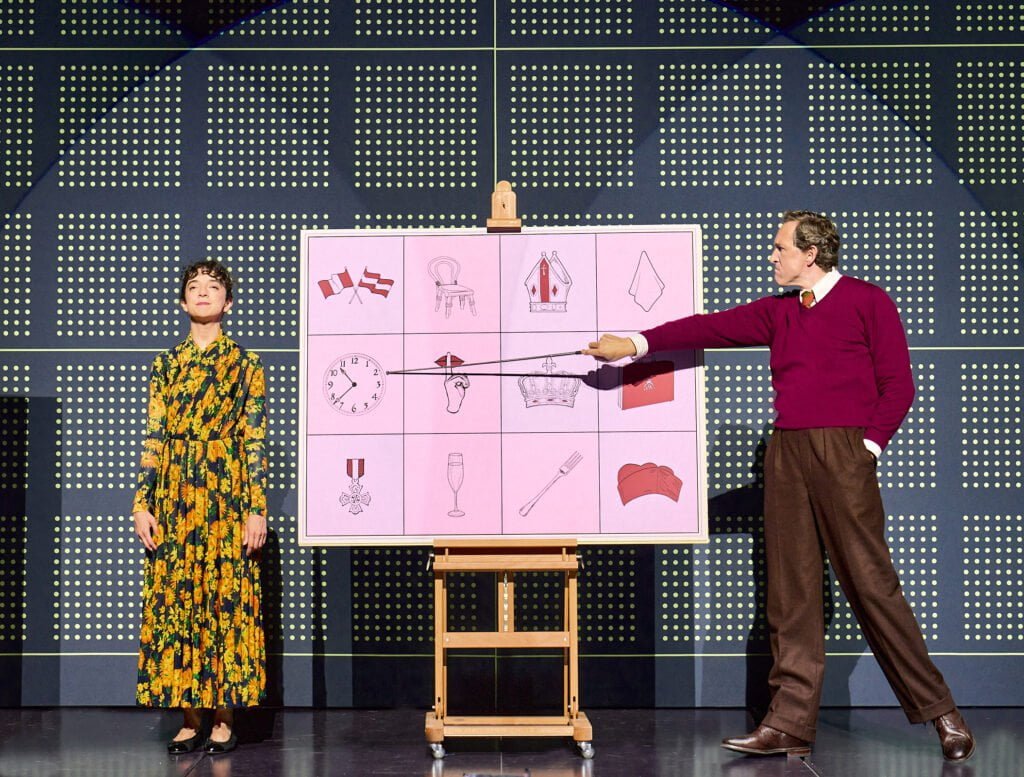 Pygmalion

Written by George Bernard Shaw
Directed by Richard Jones
Cast
Starring:
Bertie Carvel
Patsy Ferran
Grace Cookey-Gam
John Marquez
Lizzy Connolly
Michael Gould
Sylvestra Le Touzel
Taheen Modak
Penny Hayden
Kieran Smith
With: 
Rohan Rakhit
Caroline Moroney
Liz Jadav
Creatives
Director:  Richard Jones
Designer: Stewart Laing
Movement: Sarah Fahle
Lighting Designer: Adam Silverman
Composer and Arranger: Will Stuart
Sound Designer: Tony Gayle
Information
Running Time: Two hours 10 minutes with an interval
Booking to 28th October 2023
Theatre: 
Old Vic
The Cut
Waterloo
London SE1 8NB
Tube/Rail : Waterloo
Telephone: 0344 871 7628
Website: oldvictheatre.com
Reviewed by Lizzie Loveridge
at the Old Vic
at the evening performance 
on 23rd September 2023